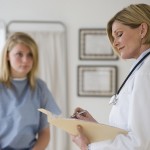 When you were young, you may have heard the terrible things teens say to each other when they have acne. You know the ìpizza faceî comments and the poor self-image that goes with it. You want to spare your teen from being called the same names. Try these ways to control acne in your teen and they may not have to hear them at all.
In the past, people thought acne was caused by eating too much fried food or chocolate. Nothing could be further from the truth. Acne is caused, plain and simple, from clogged oil glands. Whatís clogging them? Normally itís a mixture of dead skin cells, extra oil, hair follicles, and possibly bacteria.
You may notice your teenís acne gets worse when they are affected by any of the following items:
Stress
Hard scrubbing of the facial skin
Oil-based makeup, lotions, suntan oil, or hair products
Hormonal changes, especially during a femaleís monthly menstrual cycle
Picking or squeezing at them
You can get over-the-counter products containing Benzoyl peroxide, salicylic acid, resorcinol, and sulfur. These medications are found in a variety of products, so your teen can find one that works best for them. They can choose from lotions, creams, soaps, gels, and cleansing pads.
Take your teen to a dermatologist and they can provide a prescription for medications which will help clear up the acne. Your doctor will be able to give you advice about what the options are so you and your teen can make an informed decision. They may prescribe retinoids, which require your teen to avoid the sun or use a very strong sunscreen while their skin is healing so that they do not end up with severe sunburn.
Adapalene is another topical prescription your teen can use, but be very careful when applying it. Keep the medication away from the eyes, mouth, and under the nose. They may also recommend Isotretinoin which comes in pill form and is for severe cystic acne.
If youíd rather not use medications, you can help your teen eat a healthy diet to nourish their body. Getting plenty of fresh fruits and vegetables can do wonders for helping your teenís skin look healthy. Teens are also recommended to get 6-8 glasses of water and 8-10 hours of sleep each night. They can also take fish oil supplements which have been shown to keep excess oil in check.
Encourage your teen to keep their hands away from their face as much as possible. When they use a phone, donít let the phone rest on their skin. Either of these activities can promote acne.
Recommend they use a gentle cleanser rather than a harsh one, and that they use a light hand while cleansing.
These are some of the ways to control acne in your teen. If you can get them to follow these suggestions, they may have a better chance of having clean, fresh looking skin rather than the alternative. And if they have great looking skin, it will help them feel better about themselves.
---
A great skin starts with a proper daily cleaning regime. The Dermalogica Clean Start Kit is a convenient and easy way to give your skin the care it needs.
The kit contains:
Wash off (1.7oz) ñ a foaming face wash that cleanses pore-deep
All Over Clear (1.7oz) ñ a spritzer for your face and body to re-energize and tone your skin and prevent breakouts
Ready, Set, Scrub (0.5oz) ñ pore-refining scrub and masque to purify skin and control oil production
Bedtime for Breakouts (0.5oz) ñ fights breakouts while you sleep
Welcome Matte SPF15 (0.5oz) ñ moisturizer to hydrate your skin
Dermalogica Clean Start Kit is recommended by skin care professionals worldwide. It is made from high quality ingredients, has never been tested on animals, never uses artificial colors, fragrances, mineral oils or lanolin.
The Dermalogica – The Ultimate Buffing Cloth is a quick drying, hygienic and exfoliating cloth that can be used all over your body to smooth rough skin. It is even ideal to scrub your back with. Your skin will feel super soft and will look younger and refreshed.
The buffing cloth is a gentle way of exfoliating your skin. Just use any body wash on your dampened cloth and massage your rough skin, especially on your heels, elbows and knees. It is suitable for all skin types.
The cloth is 12x36inches and made from durable nylon fibers. After each use it should be thoroughly rinsed and hung up to dry. If necessary, it can also be machine washed in cold water.