The Total Focus Program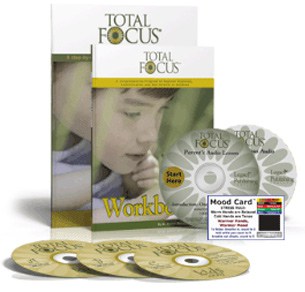 Feel Like a Broken Record?
Parents with ADHD kids often hear from the school over and over again that their child isn't living up to their potential or that they're distracting the whole class. They hear that their child doesn't turn in their assignments and that their deskisalways messy. The teachers go on to say that they have 30 kids in the class and they can't give one kid all that special attention. At home there is a lot of arguing, crying, defiance and name-calling. So when parents walk into Dr. Bob's office they are at the end of their rope.
Order Now
A big change!
Review by: Walker Family
My kids are different kids. Especially my 10 year old. My Husband and I are better too. It's so much nicer in our home. No more arguing, just more doing and more family time spent having fun. I never thought that something like this could help us. My son has ADHD, I thought that it would always be some kind of arguing over just about everything. Don't get me wrong, we aren't perfect, nothing is a 100% but this is as close as it gets. My son is happier. He knows that his behavior is his choice and the consequences are set, he doesn't have to wonder or beg. It's great. Thank You
Meet Dr. Robert Myers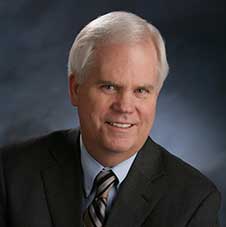 "Hi, I'm Dr. Bob. I'm a clinical psychologist with over 30 years' experience and I created Total Focus to share the techniques I developed over many years working with kids with ADD & ADHD. The techniques I have included in Total Focus are the ones I have found to be the most successful in real life working with real kids and real parents.The key to changing your child's behavior is not to stop the behavior that's a problem but rather to learn new behavior and reinforce it so that it gradually takes over.
I'm also a father and my son has ADHD. I understand this condition and the challenges it asks of the child and the parent from a very personal perspective. I was motivated to develop a program that works because I needed something that would work for my child and my family."
Dr Bob Myers is a Licensed Child and Adolescent Psychologist. He is Associate Clinical Professor of Psychiatry and Human Behavior at the University of California, Irvine School of Medicine. Dr Myers has 30 years of clinical experience and specializes in developmental, behavioral and emotional disorders in children and adolescents. He earned his PhD from the University of Southern California.
What's Inside?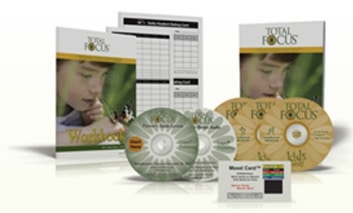 Begin with the behavioral checklist that you will find in the introduction to the workbook.If you wish to pursue it further you can take the behavioral checklist to your child's physician. It's an excellent starting point to help you get the treatment and services your child needs.
Get a 3 Pronged Approach – The total focus program uses a step-by-step three-pronged approach to improving your child's attention, concentration and self-control.
Improve Your Child's Attention Span – By using the "brain training" techniques that you will learn in total focus, your child's attention span can be improved greatly.
Stop Bad Behavior Quickly and Heal Your Family Bonds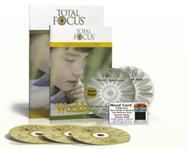 Learn how ADD affects children and that it's the positive side of ADHD, actually, that can cause some of the behavior issues you might be experiencing with your child.
Understand poor impulse controlassociated with ADD & ADHD to overcome it.
Stop bad behavior now, not in weeks or months.
Order Now
It really helped!
Review by: John Doe
I am a parent of two and an educator for 20 years. Mangaement has always been my strong point working with my students, but at home I always felt lost. This program helps me at home with my teenagers. I'm so greatful for this program. I'm so proud of my new responses to certain behaviors
Immediate Help for Parents and Children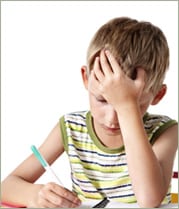 "The world is quite different for ADHD kids than it is for you or I. They do something because it is there to be done. They don't really thinkit through. If they paused and thought about it, they most likely would not do the bad behavior. ADD children behaveimpulsively, get in trouble, and then feel picked on. Let me share an example with you.
Imagine a classroom of children misbehaving while the teacher stepped out for a minute. Normal children would stop the bad behavior immediately upon seeing the teacher return, but ADHD kids will get caught because they have a hard time slowing down. Now they are the one in trouble for doing something all the other kids were doing too and they feel singled out, picked on and upset
The total focus program uses a step-by-step three-pronged approach to improving your child's attention, concentration and self-control. Positive reinforcement is the basis for the behavior modification program that we use in total focus and I think you will be amazed at the success once you start implementing these techniques.
Don't worry, you don't need to be a psychologist to do this. It's very simple, and besides, you have your own personal child psychologist, me, beside you the whole time."

Changed my life!
Review by: RevDrMother
This is a program that all parents should have! I have certainly learned more effective methods of parenting, and wish that I had this program years ago. Parents will find that when they change, their children actually have the opportunity to change. Polish your approach to parenting and you will enjoy the journey!
The First Step is Behavior Modification
"In my experience, kids with ADHD respond better to positive reinforcement than negative reinforcement. In fact, they are so motivated by positive reinforcement that when they do receive it they will try harder. They tend to overreact to negative feedback and it can actually interfere with their ability to stay on task."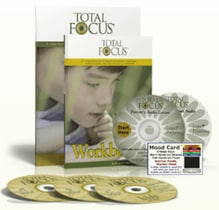 What can you expect to see in your child once you start using the behavioral modification system?
You will see your overall child's motivation increase. "Parents tell me that the phone calls and notes from the teachers stop and get replaced by better performance at school and notes of a different kind from the teacher. Notes of praise and recognition, of improvement and achievement."
You'll see greater cooperation from your child at home. "You can expect less defiance, arguing and name-calling. A more peaceful atmosphere at home with you, your child, and the rest of the family."
Thank you Total Focus
Review by: happyfam5
Wow we are only to the third lesson and already see a difference in our children! And they notice a difference in us! Our child is obeying better, Intersested in learning again and very loving! The program is helping with our parenting for all of our children not only the child we were intersted in buying the product for!
The Second Step Involves Relaxation and Biofeedback Techniques
These techniques teach kids to relax in situations where they become frustrated. When anybody is frustrated they will have difficulty concentrating, paying attention and thinking clearly. This is even more so for a child with ADHD.
What can you expect to see in your child once you start using the relaxation & biofeedback techniques?
You will see him or her become calmer, less hyper and have more self-control.
Your child will have help to become more patient
Your child will learn how to manage his/her frustration level in a more appropriateway than taking it out on others.
Your child will learn to calm himself/herself and will have an alternative to outbursts and tantrums.
The feeling of walking on eggshells around your child will go away."Parenting and ADHD child is one of the most stressful experiences there is. Often you feel as if you are living in crisis mode. I know, I did it!"
A great help to a grandmother
Review by: Grandmother
I got the program because my grandson, who lives with me, just turned nine years old and I was beginning to have some behavioral problems with him. There was nothing terrible, but he had started to test his boundries. When I listened to and read the Total Focus program I could see that his current behavior was just the beginning. I felt like I didn't get it right with his mom, and I want to get it right for him. The program started helping me immediately. I realized I had really not been strict enough and was allowing too much whining and negotiating, trying to keep him happy. I now see that is what I did with my daughter too. This is somewhat humbling for a Psychology major!
I started applying the very simple techniques that I learned and saw immediate results. He doesn't argue and whine like he did, and obeys me much quicker. We have less drama on a daily basis!
I am going to continue applying what I have learned to my grandson and even to his mother who still whines and argues over everything! I hope that I can set a better example for my daughter to follow with her son, and her new baby girl.
Thank you for being so honest in a kind and sensible way. The program is excellent and I would readily recommend it to other parents.
The Third Step Is Called Brain Training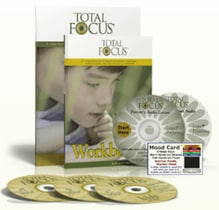 Children with ADHD often have difficulty with concentration and paying attention, along with task completion. They also have difficulty with memory sequencing (putting things in order) and categorizing, (putting things in groups) also makes it difficult for them to follow directions combining these two that have multiple steps. The brain training section of Total Focus will help your child in the following ways:
You will find reading and homework easier to do
Better grades at school
Increased happiness at home and at school
"Here's the best part. You will feel like you have your child back and your child will feel like everyone around them has changed, not noticing the change is coming from within."
Common Myths About ADD & ADHD Children
Myth – Only certain kinds of families have children with ADHD. ADHD is not a respecter of social status. It affects millions of children.
Myth – ADD & ADHD kids love to get into trouble. Contrary to what you might think or what you have seen from your ADHD child ADHD kids don't want to get into trouble, they actually want to do the right thing. Parents may confuse ADD & ADHD with ODD (Oppositional Defiance Disorder) where kids are actually trying to get away with bad behavior to get what they want.
Myth – My ADD or ADHD child will never grow up to be a "normal" person. Once these kids learn impulse control they can become very solid citizens and in fact a number of "ADHD kids I worked with have become police officers, teachers, attorneys and a couple of them believe it or not became psychologists themselves. You name it these kids can do it. Once they learn to live with their uniqueness and In medical terms their disorder, that's exactly what the total focus program will show your child how to do as you have probably noticed when your child gets into something he can stay with it for a very long time and yet sometimes his overall attention span is very short."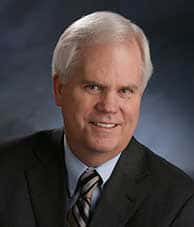 Maybe you are experiencing these thoughts yourself. It's natural that you get to the point frustration, trying to raise your child the best you can, thinking that your child is the same as any other kid on the block. That's why I'm pleased to offer you a money back guarantee** on Total Focus.
In Total Focus, I give you the techniques I've used in my practice-and in my family–to help improve attention, concentration and self–control in children. Here's a look:
Homework nightmares? I'll give you dozens of simple techniques to help improve your child's ability to focus on classroom work and homework.
The First-Time Club–How to get a child with ADHD to follow directions in school and at home,
and do what he's asked the first time.
Slow Down and Think–One–on–one lessons designed to help hyperactive children calm down
and curb impulsive behavior.
Frustration Busters–Tools to help a child get rid of anger and negative attitudes to improve
performance.
14 ways to stop outbursts and tantrums during high–stress times at school and at home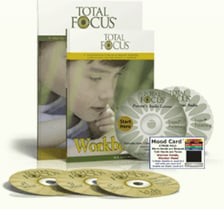 I'll teach you and your child in one-on-one lessons that are fun, fast and easy. I encourage you to try Total Focus now. Don't let inattention and hyperactivity keep your child from the success he deserves. I consider my son's success in life my greatest achievement. I'd like to help your child.
Sincerely,
Order Now
Dr. Robert Myers
*Results may vary.
** Returns are accepted up to 30 days from delivery. Shipping costs are non-refundable. We will deduct a $5.00 restocking fee.
House full of Kids
Review by: CNeedham92
We are parents of 7 children, ranging from the ages of 21 to 4 years old. What made it even more difficult to parent these kids was the fact that we're a mixed family…his, mine & ours. His sons resented me, my daughters resented him, and our kids just followed along with whomever seemed to be getting their way at the time.
After years of trying all kinds of "parental programs,' we decided to go with Total Transformation because (1) James Lehman is a real kind of person…no sugarcoating or acting like he was better than any of us, and (2) a few of our friends had highly recommened it.
With in the 1st week of listening to the CDs, we started implementing what we were learning. There was ground rules…most importantly, that there is no excuse for abouse. My kids regularly threw blows & "wrestled", which made me very unconmfortable because I came from an extremely physically abousive home. By the end of the first month that we had the program, there are very rarely any fights.
They've taken to talking things out with each other and have come to the understanding that they're making a decision to deal with things, life responsibly. Even the 4 year old understands that if she chooses to not put away the shoes, she's making the choice to lose playtime. We made one of the best decisions when we purchased Total Transformation for our family. I look forward to going home now, whereas I would dread having to go home just a month ago.