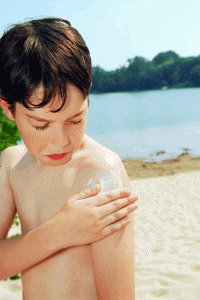 Summer is a time for pool parties, beach parties, and sun bathing. However, with the suns rays growing ever stronger, you should take precautions to prevent overheating and dehydration. Here are some summer safety tips as you spend your days in the sun and heat:
When sunbathing, always wear sunscreen, preferably SPF 15. Reapply it every two hours.
Try to stay in the shade during the hours of 10am and 4pm, when the sun is at its strongest.
Wear sunglasses and a hat when sunbathing at the beach. If possible, bring or rent an umbrella. (This is especially important if you are bringing the kids along.)
Drink plenty of water on a hot day, either in your backyard pool, or at the beach. You want to avoid any form of dehydration. You can also buy some Gatorade or Propel.
When exposing babies to the sun, ensure they are wearing lightweight clothing, including hats with brims. It's also safe to apply suntan lotion to their face, and the back of their hands, as well.
For younger and older children, apply sunscreen thirty minutes before going out to the pool, beach, or engaging in any activities. Ensure you have plenty of fluids for them to drink, as well.
If you go to the supermarket, or engage in any outdoor activity on a very hot day, dress in light-colored cotton clothing, wear sunscreen, and sunglasses, and be sure to bring plenty of water with you. Unfortunately, the older we get, the more likely we may suffer from dehydration.
If you and your family are participating in any physical activity, make sure you are all well hydrated. Drink liquids every 20 minutes.
If it's very, very hot, reduce your activity to fifteen minutes. The moment you become dizzy or flushed – stop. Go to a shaded area, and drink water until your body has a chance to cool down.
Take care of your pets. Ensure they have plenty of water to drink, and are kept in a shaded area in your backyard. Otherwise, keep them indoors, and limit their activity as well.
Carry wet washcloths in a plastic bag, if you are spending the day out. This is great to have if you are feeling faint, or are walking for a long period.
When driving, especially in high temperatures, bring bottles of water and wet wash clothes, as well.
We have all felt the affects of the weather over the past couple of years. With temperatures in the 100′s, or above in most states, it's important to follow these tips, as well as listening to the radio or news channels. Remember: Safety first, summer fun later!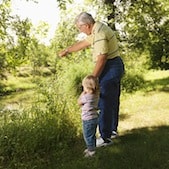 It is important to exercise and walking is a great way to do that. However, simply walking can be boring. Here are five things you can do on a hike that will make it more enjoyable and interesting. Continue reading →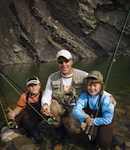 As research and experience shows more and more that we need more exercise, emphasis is being placed on incorporating physical activity into our leisure time. Summer is a great time to get your whole family off the couch and into the water. Here are some types of water sports that families can enjoy together.
1. Fishing
This is a classic family water sport, and even if you don't catch much of anything, the experience can be fun and rewarding. Boats can be rented, and most facilities offer you a choice of a guided outing or going out on your own. You can pack a lunch and spend the day on the boat. Your family can fish for food, or simply for the experience. Science-minded family members might enjoy studying the various species of fish you catch.  For more on family fishing visit Take Me Fishing.
2. Kayaking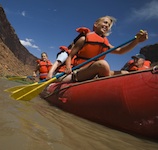 There are now coastal facilities that cater to all ages and experience levels of kayaking. You don't need to be an expert to enjoy a guided tour along various coastlines. Some kayaking packages include camping and/or hiking as well. Children and adults who like the water and beautiful scenery might enjoy kayaking. There is fresh water kayaking available, too, at some tourist destinations along lakes and rivers.  More on family kayaking from paddle.net.
3. Tubing
Something between water skiing and bobbing in an inner tube, tubing can be a lot of fun. The big rubber tube is attached to the back of a boat, and participants take turns riding in the tube as the boats speeds over the water. You certainly have to be a good swimmer to do this one!  Learn more about water tubing for kids from Discover Boating.
4. Parasailing
This water sport also involves being attached to the back of a boat. A parasail is like a big parachute, and participants are attached to it via a harness of sorts. As the boat picks up speed, the parasailers skim along and eventually rise off the water for an aerial ride.  Parasailing.com has information on this fun activity.
5. Scuba diving
Talk about a learning experience! Scuba diving can be thrilling for kids and adults of all ages. Most facilities will offer lessons if you're inexperienced. You can choose a location with spectacular underwater formations, such as coral, or interesting undersea creatures to make it an unforgettable experience.  Learn about the pros and cons of kids scuba diving from About.com.
6. White water rafting
You don't need a beach for this thrilling sport. Whole family groups can go on a guided tour in one circular raft. Tourist destinations along rivers with "white water" (rapids) are plentiful.  More on this family activity from Rafting America.
Have you ever heard your teen remark that they are bored? It can be like a broken record by summer's end. Here are some ideas to help you avoid hearing those words again this summer.
Why are teens bored so often? For kids (even older ones), the attention span is short. They need constant stimulation to stay interested. It can be a daunting task to keep them occupied, especially when all you want to do is relax. Help them plan their summer out.
Discuss options with your teen – Have a seat and talk to your teen. What are their likes and dislikes? What hobbies do they like? This information can help you present them with a list of options for the summer.
Set boundaries – Let them know that they won't be sitting on the couch watching television and munching on snacks all summer. Give them a minimum of activities to choose from the list you both create. Now, they will stay occupied all summer with some scheduled downtime.
Volunteering – Even if they are not old enough for a paid job, they can volunteer in some way to give back to the community. Have them work at a soup kitchen, help with kids at a rec center, or do something that involves one of their hobbies. Getting involved with church groups is a great way to volunteer and help folks that you know.
Playing summer sports – If your teen played a sport in school, they may be interested in keeping their skills up in a summer league. Here, they can have fun without the added pressure of their school record being at stake.
Find a job – Jobs are not as easy to find as they once were, but it can still be done if they are willing to work certain hours. Besides, many teens like having money. Consider jobs close by so they can ride a bike or walk to work to save gas.
Take a fun class – Does your child like art? They may be interested in an art class to increase their skills.
Summer programs – Many local universities and colleges offer summer programs for kids who are considering college. They span a variety of career disciplines. Many offer on-campus housing for the duration of the program and a stipend to students. Applications have to be filled out before the end of school to get a spot.
Help out around the house – With so much extra time, they can make improvements to the household. Helping mom or dad with building a deck, landscaping the yard or coming up with their own outdoor projects can actually be fun.
It is highly unusual to find a teen who is never bored. Head off their boredom with a few activity ideas.
Food allergies don't have to leave your child in the cold when it comes to summer camp. You can help them stay safe and healthy with a few simple tips. For parents, there are a few questions to ask.
Summer is about having fun and taking a break from school. For parents, it can mean finding a way to entertain their kids. One alternative is summer camp.
Whether your child chooses a day camp or an overnight camp, if they suffer from food allergies you have a valid concern about the safety of the camp. Here are a few questions to ask of the staff and administration of the camp before signing your child up.
How do you handle food allergies? – Many kids suffer from some sort of food allergy today. In an effort to accommodate, many eliminate the common allergens from their dietary list. Check to see what ingredients their food list contains.
How do you handle a food allergy emergency? – Even with changes to the food being served, there is always the chance that a child will come in contact with an allergen. What is the procedure for dealing with this emergency? How close is medical attention if it is needed? Know that your child will be in good hands should anything happen.
Can you handle children with multiple food allergies? – Some uncommon food allergies may be difficult for certain camps to monitor. If this is the case, pass on that camp in favor of one that can accommodate your child. This may mean a day camp where your child can eat their own lunch each day.
For your child, they also need tips to help them to navigate the waters of food allergies. If they have lived with these allergies all their lives, they can be prepared with a few suggestions to help them avoid potential danger.
Bring snacks from home – They are familiar with their own snack regimen at home. Bringing allergen-free snacks can reduce the chance of coming in contact with any trouble.
Avoid switching foods with other campers – New-found friends love to trade food in their stash. Your child can offer their snacks if they wish but warn them not to accept other snacks. The reasoning here is that they don't know what ingredients are found in those other snacks. Foods such as peanuts can be listed under other names unrecognizable by your child. They may think it is safe to eat but it really is not.
Wear a medic alert bracelet – This can alert staff that your child has a medical condition they need to be aware of. In an emergency, there will be no doubt as to what has caused the reaction.
Summer camp can be fun and safe even for kids with food allergies. Be proactive and ask questions to ensure a positive, memorable experience.  More on food allergies from the American Academy of Pediatrics.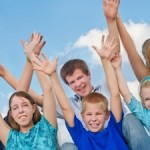 Summer is a time for fun for teens and kids; school is out and families plan for vacations. But safety is important to consider in and out of the house. It's important to note that most accidents occur at home. The warm weather can lead to water related accidents and heat related illnesses. Outdoor activities such as bicycling, skateboarding and hiking also have their safety concerns.

Summertime is for picnics in the park or on the beach. The Picnic Time Solano Insulated Cooler Picnic Tote
contains everything you need for a picnic for up to four people. There are four 9″ white plastic plates, four stainless steel forks, knives and spoons, four plastic 10oz glasses, four 100% cotton green/brown/white napkins. Also included is a corkscrew to open your favorite bottle of wine, a hardwood cutting board and cheese knife to prepare a cheeseboard and a salt and pepper shaker. All is conveniently packed into a sturdy and handy tote.
I like this picnic tote for various reasons: It is compact, so can easily be taken on your next outdoor adventure. The fully-insulated food/drink compartment keeps food/drinks cold and safe. The dishes/cutlery etc are high quality and look stylish and expensive. In addition, the tote itself comes in a lovely green color.
Overall, this would make a lovely gift for a special person, but I also think that you should buy this for yourself to treat your family/friends to an enjoyable picnic in the great outdoors.

If you like picnics, you will need to invest in a good picnic blanket for use anywhere, for example on the beach or in the park. I like the Picnic Time Sunshine Blanket
. It is made from soft fleece on one side, but the underside has a moisture-protective PVC cover to keep it dry. The blanket itself is big enough for 2-3 people to sit on and feast.
Another advantage of this blanket is that it easily rolls up and folds into a carrying tote with a polyester closing flap and carrying handle. You can choose from various stripy color patters, depending on your preference. The blanket can happily live in the trunk of your car, so you will always have it handy when needed.
Overall, I think everybody should own a picnic blanket like the Sunshine Blanket Tote. I am sure you will get lots of use out of it, whether sitting at an outside concert, enjoying a romantic picnic in the park or snoozing at the beach. This product is very good value for money.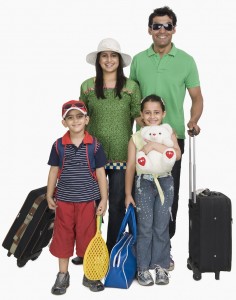 Sometimes it's important to just get away from it all. Traveling to another city or another country can give you a new perspective, give you the opportunity to relax and enjoy the freedom and ambience and being catered to for a change is always a plus. A family vacation might be just what everyone needs to reenergize.
No one can say this winter hasn't been the worst on record. Maybe you've been indoors so long you need a respite " a change of scenery " like warm weather. Well taking a family vacation not only rejuvenates, but allows the family to breathe, take in sites, engage in activities you've never been part of before, and commiserate with people from another city or culture.
All too often we think that having a few weeks off enables us to take out the list of things to do around the home that have been left undone. But staying home can be the worst thing. Even though you're on vacation, and you say you are going to relax and enjoy it, inevitably you wind up implementing new tasks or trying to finish old ones. That's not a vacation.
No doubt after being cooped up all winter long, someone has pushed your proverbial button or hit on your last nerve. You've perhaps become a bit agitated or stressed out. Lets face it, if you are a working mom, or tend to small children at home ñ you need a break.
Heck, the entire family needs a break. To keep everyone happy and sane, the best course of action is a family vacation. To go somewhere where people wait on and pamper you. Somewhere you don't have to worry about phone calls, preparing dinner, running around town completing all the errands you have on your list.
Think of it! You and your hubby can relax on a beach looking out at the blue-green ocean while your kids are having a great time building sandcastles. You can have breakfast served in bed every morning, enjoy wonderful dinners at different restaurants, engage in a variety of outdoor activities for the whole family, and meet new people and discover new cultures. Now that's a vacation.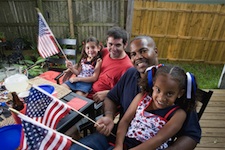 There are all kinds of ways to celebrate Independence Day. You can go the traditional route and have a picnic or cookout, or you can get creative by singing songs, putting on historical plays, or making your own decorations. If you're looking for ways to celebrate Independence Day, here are some ideas including:
Fun Activities
BBQ Recepies
Craft Ideas
Independence Day will be here before you know it, and your children may be looking for fun Independence Day games to play. Your children may not have any ideas of their own. If this is the case, you may want to give them some of these suggestions.
One activity your children may like to try is a flag relay. Hereís how to play the game:
Gather together a number of small American flags, enough for each person playing the game. Then split the children into two teams with equal numbers, if possible.
Put two buckets filled with sand at one end of the yard and make the starting point at the other. Place the flags into the buckets with an equal number in each one.
When you say ìgo,î the first child will race to the bucket, pick up a flag, and then head back to the next team member. Theyíre not allowed to run back, however. They may walk or march. When they reach the next team member, theyíll tag them and that person will race down to get their flag.
Continue the game until each team member has raced down to pick up a flag. Let the children keep their flags. If your town is having fireworks, the children will have flags to wave.