Parenting Books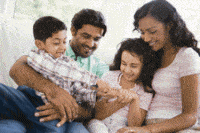 Parenting has both its joys and challenges.  In this section we provide parents with the knowledge and skills to provide the love, understanding, encouragement and structure necessary to raise children that are happy and successful in life.
This section provides general parenting information on such topics as parenting styles, family life, play, communication, self-esteem building and of course discipline.  The information is provided by recognized experts and is based on the latest research in child psychology and child development.
For books related to raising children at specific developmental stages see: Baby Care, Parenting Toddlers, Raising Preschoolers, Parenting During the School Age Years and Parenting Teens.
Through our affiliation with Amazon.com you will be able to purchase them with the confidence you are getting the best price and service possible.
We only select a few from their entire catalog that we think are the best available.
No products were found matching your selection.