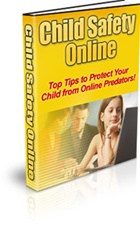 Child Safety Online: Top Tips to Protect Kids & Teens
Sometimes it seems as though the internet is your child's best friend. Being online has turned into another world for them. The good thing about this is there are things they can do that can be rewarding and provide educational insight. On the other hand, there are areas online that provide your child in unknown waters.
You as a parent, should be mindful of providing them with guidance and a strong sense of security. It's important for you to stay informed and involved because the online world changes in an instant and the change is constant. One minute your child may be involved in this; the next minute it may be something else. So, it's very important to keep up with what your child is involved in online.
This Parent Education Module will help you navigate through keeping your child safe amid a sea full of predators who would like nothing more than to take a shot at getting your child's attention. Key topics include:
Parental Monitoring
Monitoring and Protection Software
Tips to Avoid Sexual Predators
The Truth About Online Content Identity Theft
Spyware And Malware
The Children's Online Privacy Protection Act (COPPA)
 Privacy Policy
Social Networking Safety
Additional Rules For Child Safety
Online Warnings For Children Online
You can have all the information in one neat package. This all inclusive guide will explain in simplified terms all the questions that have eluded you in your internet searches or textbooks on the subject.