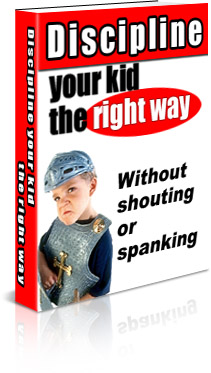 Discipline Your Kid The Right Way Without Shouting or Spanking
The road to good discipline begins with you and your child, and your commitment to a better way! Break your old habits, stop spanking and yelling, and learn new techniques that will make you and your children happier and make your relationship more rewarding!
In this Parent Education Module you will learning the following:
You'll learn how to:
Figure out your child's 'TRIGGERS' for bad behavior
How to build your child's self-esteem and avoid attacking and name-calling
How to build trust and understanding between you and your children
How to COMMUNICATE with AND LISTEN TO your child
Even how to get your FAMILY and FRIENDS to help you!
And we'll TEACH you:
The Do's and Don'ts of Discipline
How to establish a discipline program that is appropriate for the age of your child
How and when to use logical consequences for bad behavior
When you need to consider professional help and how to plan a discipline program for a learning disabled or handicapped child
How to teach your child about discipline and rules
'Discipline Your Kid the Right Way – Without Shouting and Spanking' will teach you SIMPLE METHODS, and with practice and COMMITMENT, you WILL SUCCEED.