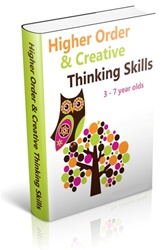 Higher Order & Creative Thinking Skills (3 – 7 Year Olds)
The skills of memorizing and recalling facts or information are called the lower-order thinking skills as they do not require wide and deep thinking. Sadly, much of the teaching and learning in schools today is based on the lower order thinking skills. Thinking skills such as clarifying, making analysis, generating ideas, making decisions, problem solving, and planning which require wider and deeper thinking. These are called higher order thinking skills.
The activities written in 'Higher Order & Creative Thinking Skills – 3 to 7 Year Olds aim to unlock independent thinking in children. The fun and stress-free activities provide opportunities for open-ended response where children are encouraged to look at things differently and 'think outside the square.'
Our Activities to Promote Higher Order Thinking & Creative Thinking Skills include:
Creating – Generating new ideas, products, or ways of viewing things, designing, constructing, planning, producing and inventing
Evaluating – Justifying a decision or course of action, checking, hypothesising, critiquing, experimenting and judging
Analysing – Breaking information into parts to explore understandings and relationships, comparing, organising, deconstructing, interrogating and finding
Applying – Using information in another familiar situation, implementing, carrying out, using and executing
Understanding – Explaining ideas or concepts, interpreting, summarising, paraphrasing, classifying and explaining
Remembering – Recalling information, recognising, listing, describing, retrieving, naming and finding.
Ultimately, the focus of the activities in 'Higher Order & Creative Thinking Skills' is not to get the "right" answers. Rather, the goal is to develop different ways of thinking and learning while being creative, exploring the environment and having fun. Providing investigative activities enhances preschoolers' and childrens' cognitive abilities and begins the endless pursuit of academic excellence.