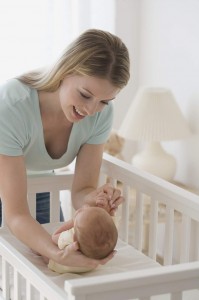 The wallpaper mural is dry, the newborn diapers are stacked neatly in the closet, and the days seem to pass by excruciatingly slowly in anticipation of baby's arrival.  It's an exciting time, not just because of the baby, but the exquisite feeling of taking a full breath again without an elbow jabbing at your kidney.  Nesting is in our genes, fueled by our hormones, and gears our needs to be in line with the new infant's needs.  Usually occurring around the fifth month, but sometimes not until the final weeks, nesting also builds our "parent esteem" and confidence.  But what about setting things up to reduce new parent stress while we are at it.  Take some time to consider these prenatal activities.
Now that you have your Gymboree and Baby Einstein Mobiles for your child, keep your own brain working – Ever hear of the "Post-partum IQ drop" that happens with new moms?  Researchers reassure us that it isn't really a permanent loss of brain power, but more likely the combined effect of hormones and fatigue.  While it's happening, why not develop some good "brain power" habits that will keep your mind stimulated and help your mood?  For example, get a few sound files on your MP3 player or IPod of books or lectures by people who inspire you.  Get an art book and drawing pad and practice some sketching.  Simple activities like these will keep you enriched while you are putting out so much energy trying to enrich your baby.
Set up online services for the period of time you are housebound – The hospital calls it "Expected Date of Confinement" for a reason, you know, and that can be a real problem for taking care of the basics from finances to food-shopping.  Whatever you can do to make things more convenient will be helpful when you can't easily get out of the house.  Set up online grocery delivery if it is available, and use the postal services' program to print postage stamps on your own printer.  Your hands may be busy for awhile, so even small conveniences will make it easier.
Additional Resources for New Moms: