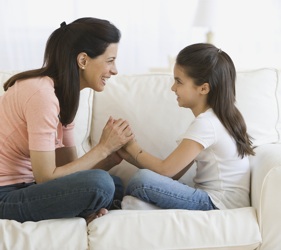 You walk softly past your child's room at night, lower the light in the hallway, and then you hear it; a quiet song, a joke from TV, or maybe a soft voice repeating something heard at school that day.  Listen to the tone, and most of the time you'll hear a soothing timbre or quiet reasoning, like the tone of a good friend or supporter.  Your child's personal narrative, his or her self talk, serves several crucial purposes in maintaining his or her emotional and psychological health.  Let me repeat that, because it is so important – a healthy internal tone is the basis for psychological and emotional wholeness and well-being.  Self talk is the voice of social problem solving, helping to work through an emotional exchange or relationship conflict.  It serves as a criticizer, a supporter, or a worrier when its role is to interpret something that has happened in the past or to plan a way of coping with the future.  Since we are all destined to have this internal companion whispering in our ears for our entire lives, or what psychologists sometimes call the dialogical self, the importance of helping our children develop healthy "inner voices" is apparent and clear.
"I remember once when I had to go to the emergency room when I was a kid because my leg got a bad cut from a piece of bamboo we were playing with.  There was a nurse that stood next to me the whole time I was getting stitches, telling me I'm going to get through this and about all the things I'll be doing a month from now.  It wasn't the exact things she said to me, it was the way she said it.  For years, I used to think of her voice when I had to get through something painful.  I don't even have any idea who she was besides an emergency room nurse." 
One of the misconceptions about self-talk is that we must always keep it positive and optimistic in order to be healthy.  Research on self-talk has revolved mostly around sports performance, depression management, and stress reduction, and in these realms positive self-talk has a direct effect on improved performance and mood.  Imagining a positive outcome to a game can enhance personal performance.  But researchers also point out that "realistic" thinking allows us to cope better in emergency situations, or when challenging problems must be addressed straightforwardly.  Meeting situations of difficulty that your child is facing with simplistic, positive messages can feel contrived and out of place.
Your Child's Inner Dialogue Comes from Many Sources
The parental voice is the "deep current" that runs beneath a great deal of your child's inner monologue, but other sources become more relevant to the child as he or she faces problems outside of the home and family unit.  The tone of a coach or the voice of a book character can have a strong impact on a child's dialogical identity.  Looking at trends in children's literature, we see that children, and particularly pre-teens, tend to choose a realistic, genuine storyteller rather than a simple optimistic one.  Barbara Brooks Wallace's  Diary of a Little Devil (Pangea) is a good example of a story that balances its narrator's voice between positive and negative poles, encouraging late child and early teen readers to follow her main character, Andy Lillibeth, through her own challenges and observations.  Wallace, a multiple award winning author, honed her skills through writing after school specials as well as several novels.  Children and younger teens relate to the tone of her characters because they resonate with and can echo the voices they hear in her stories.  Understanding the development of a child's inner voice requires a sensitivity and understanding of the problems they face in their daily lives.
Facilitating a Healthier Dialogical Self
An overly negative or hostile inner voice can have an insidious and corrosive effect on identity development from childhood to adulthood.  The impact of your child repeating a bully's accusations or the punitive tone of an angry adult can make him or her at risk for lowered self esteem, poorer performance in activities, and even depression or anxiety conditions.  Facilitating healthier self-talk involves not only modeling the inner tone you'd like your child or adolescent to adopt, but also exposing your child to other voices that reflect healthier ways of problem solving, moral reasoning, and evaluating their own behaviors and choices.  Consider the following activities help facilitate healthier self-talk in your child:
1) Start your child or teen out on a "facilitated journal" or diary.  These journals start each page with a prompt, idea, or picture to get things started.
2)  Challenge your child to draw a comic strip based on one of their own personal experiences, inventing a comic character that reflects his or her own viewpoint.
3)  Name a character on a TV show or in a movie and ask what that character might be thinking in a certain situation.  What does your child think that character would say right now?
4)  Remember that you will have a greater impact on your child's way of relating to him or herself if you avoid pushing an extreme viewpoint on a particular topic you are trying to influence your child on.  Save the strong moral lesson for a different time or discussion, and don't be overly reactive when your child starts testing you by throwing out an opinion he or she knows that you don't agree with.
5) Take stock of your own inner voice; are you a worrier, or overly defensive and critical about your own mistakes?  Your child is relationally programmed to be sensitive to your tone, and will adopt some of this in his or her own voice.
Taking some time to listen openly to your child's self-talk and to think about how that inner voice will influence your child over the next ten to twenty years helps you understand a parent's priority in this important area of development.  Positive, but realistic, curious and action-promoting; qualities like these can assist your child in developing a true inner helper.