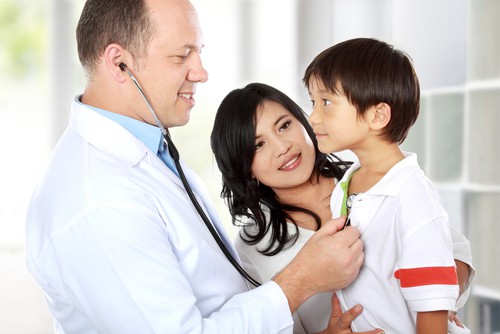 Some parents see signs of inattention, hyperactivity, and impulsivity in their toddler long before the child enters school. The child may lose interest in playing a game or watching a TV show, or may run around completely out of control. But because children mature at different rates and are very different in personality, temperament, and energy levels, it's useful to get an expert's opinion of whether the behavior is appropriate for the child's age. Parents can ask their child's pediatrician, or a child psychologist or psychiatrist, to assess whether their toddler has an attention deficit hyperactivity disorder or is, more likely at this age, just immature or unusually exuberant.
ADHD may be suspected by a parent or caretaker or may go unnoticed until the child runs into problems at school. Given that ADHD tends to affect functioning most strongly in school, sometimes the teacher is the first to recognize that a child is hyperactive or inattentive and may point it out to the parents and/or consult with the school psychologist. Because teachers work with many children, they come to know how "average" children behave in learning situations that require attention and self-control. However, teachers sometimes fail to notice the needs of children who may be more inattentive and passive yet who are quiet and cooperative, such as those with the predominantly inattentive form of ADHD.
Ideally, the diagnosis should be made by a professional in your area with training in ADHD or in the diagnosis of mental disorders. Child psychiatrists and psychologists, developmental/behavioral pediatricians, or behavioral neurologists are those most often trained in differential diagnosis.
The family can start by talking with the child's pediatrician or their family doctor. Some pediatricians may do the assessment themselves, but often they refer the family to an appropriate mental health specialist they know and trust.
The first task of the professional conducting the evaluation is to gather information that will rule out other possible reasons for the child's behavior. Among possible causes of ADHD-like behavior are the following:
A sudden change in the child's life—the death of a parent or grandparent; parents' divorce; a parent's job loss
Undetected seizures, such as in petit mal or temporal lobe seizures
A middle ear infection that causes intermittent hearing problems
Medical disorders that may affect brain functioning
Underachievement caused by learning disability
Anxiety or depression.
Ideally, in ruling out other causes, the specialist checks the child's school and medical records. There may be a school record of hearing or vision problems, since most schools automatically screen for these. The specialist tries to determine whether the home and classroom environments are unusually stressful or chaotic, and how the child's parents and teachers deal with the child.
Next the specialist gathers information on the child's ongoing behavior in order to compare these behaviors to the symptoms and diagnostic criteria listed in the DSM-5. This also involves talking with the child and, if possible, observing the child in class and other settings.
The child's teachers, past and present, are asked to rate their observations of the child's behavior on standardized evaluation forms, known as behavior rating scales, to compare the child's behavior to that of other children the same age.  While rating scales might seem overly subjective, teachers often get to know so many children that their judgment of how a child compares to others is usually a reliable and valid measure.
The specialist interviews the child's teachers and parents, and may contact other people who know the child well, such as coaches or baby-sitters. Parents are asked to describe their child's behavior in a variety of situations. They may also fill out a rating scale to indicate how severe and frequent the behaviors seem to be.
In most cases, the child will be evaluated for social adjustment and mental health. Tests of intelligence and learning achievement may be given to see if the child has a learning disability and whether the disability is in one or more subjects.
In looking at the results of these various sources of information, the specialist pays special attention to the child's behavior during situations that are the most demanding of self-control, as well as noisy or unstructured situations such as parties, or during tasks that require sustained attention, like reading, working math problems, or playing a board game. Behavior during free play or while getting individual attention is given less importance in the evaluation. In such situations, most children with ADHD are able to control their behavior and perform better than in more restrictive situations.
Psychological testing can be useful to rule out learning disabilities and Continuous Performance Tests (Connor's CPT, TOVA, IVA, Gordon Diagnostic) may help confirm the diagnosis and be helpful with titration of medication. At this time the use of imaging such as PET or SPECT is recommended for research purposes only and is not recommended for use in diagnosing. The research indicates that these procedures still need some refinement as the may yield either false positive or false negative results. Also, several professional organizations recommend against the use of these techniques due to unwarranted exposure to radiation and lack of sufficient data to enable accurate diagnosis.
The specialist then pieces together a profile of the child's behavior. Which ADHD-like behaviors listed in the most recent DSM does the child show? How often? In what situations? How long has the child been doing them? How old was the child when the problem started? Are the behavior problems relatively chronic or enduring or are they periodic in nature? Are the behaviors seriously interfering with the child's friendships, school activities, home life, or participation in community activities? Does the child have any other related problems? The answers to these questions help identify whether the child's hyperactivity, impulsivity, and inattention are significant and long-standing.  If so, the child may be diagnosed with ADHD.
The clinician may also need to make what is called a differential diagnosis as there are a number of other mental health conditions with some of the same symptoms. The child might have one of the other conditions and not meet criteria for ADHD or he/she may have more than on condition.
Disorders that Sometimes Accompany ADHD:
Learning Disabilities:
Many children with ADHD—approximately 30 to 50 percent—also have a
specific learning disability (LD). In preschool years, these disabilities include difficulty in understanding certain sounds or words and/or difficulty in expressing oneself in words. In school age children, reading or spelling disabilities, writing disorders, and arithmetic disorders may appear. A type of reading disorder, dyslexia, is quite widespread. Reading disabilities affect up to 8 percent of elementary school children.

Tourette Syndrome:
A very small proportion of people with ADHD have a neurological disorder called Tourette syndrome. People with Tourette syndrome have various nervous tics and repetitive mannerisms, such as eye blinks, facial twitches, or grimacing. Others may clear their throats frequently, snort, sniff, or bark out words. These behaviors can be controlled with
medication. While very few children have this syndrome, many of the cases of Tourette syndrome have associated ADHD. In such cases, both disorders often require treatment that may include medications.

Oppositional Defiant Disorder:
As many as one-third to one-half of all children with ADHD—mostly boys—have another condition, known as oppositional defiant disorder (ODD). These children are often defiant, stubborn, non-compliant, have outbursts of temper, or become belligerent. They argue with adults and refuse to obey.

Conduct Disorder:
About 20 to 40 percent of ADHD children may eventually develop conduct disorder (CD), a more serious pattern of antisocial behavior. These children frequently lie or steal, fight with or bully others, and are at a real risk of getting into trouble at school or with the police. They violate the basic rights of other people, are aggressive toward people and/or animals, destroy property, break into people's homes, commit thefts, carry or use weapons, or engage in vandalism. These children or teens are at greater risk for substance use experimentation, and later dependence and abuse. They need immediate help.

Anxiety and Depression:
Some children with ADHD often have co-occurring anxiety or depression. If the anxiety or depression is recognized and treated, the child will be better able to handle the problems that accompany ADHD. Conversely, effective treatment of ADHD can have a positive impact on anxiety as the child is better able to master academic tasks.

Bipolar Disorder:
There are no accurate statistics on how many children with ADHD also have bipolar disorder. Differentiating between ADHD and bipolar disorder in childhood can be difficult. In its classic form, bipolar disorder is characterized by mood cycling between periods of intense highs and lows.  But in children, bipolar disorder often seems to be a rather chronic mood dysregulation with a mixture of elation, depression, and irritability. Furthermore, there are some symptoms that can be present both in ADHD and bipolar disorder, such as a high level of energy and a reduced need for sleep. Of the symptoms differentiating children with ADHD from those with bipolar disorder, elated mood and grandiosity of the bipolar child are distinguishing characteristics.
A correct diagnosis often resolves confusion about the reasons for the child's problems that lets parents and child move forward in their lives with more accurate information on what is wrong and what can be done to help. Once the disorder is diagnosed, the child and family can begin to receive whatever combination of educational, medical, and emotional help they need. This may include providing recommendations to school staff, seeking out a more appropriate classroom setting, selecting the right medication, and helping parents to manage their child's behavior.