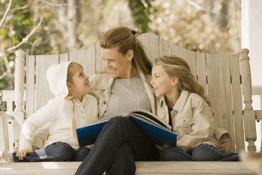 Parenting articles on learning psychology to assist parents in helping children and teens to succeed in school and in life.  Help for reading problems & dyslexia, learning disabilities and homework.  Learning style information helps parents encourage creativity and academic success.
Parents should be each child's first and favorite teacher.
Child Development Institute provides information on child and teen learning styles along with guidelines and tools to enable parents to provide the input and activities children need at critical stages of development.  The timing and appropriateness are key to children learning important skills.
Children may have difficulty mastering certain developmental tasks or academic subjects.  We also provide suggestions on how to help kids when they are struggling.  We offer expert help for new readers or struggling readers including dyslexia, math, language plus study skills development and homework help. We also provide recommendations for educational toys and games and programs to improve reading and other study skills.
Featured Articles for Parents on Learning & School Issues
Latest Blog Posts on Learning & School Issues
[columnpost cat_inc="16,15″]
Recommended Resources for Parents on Learning