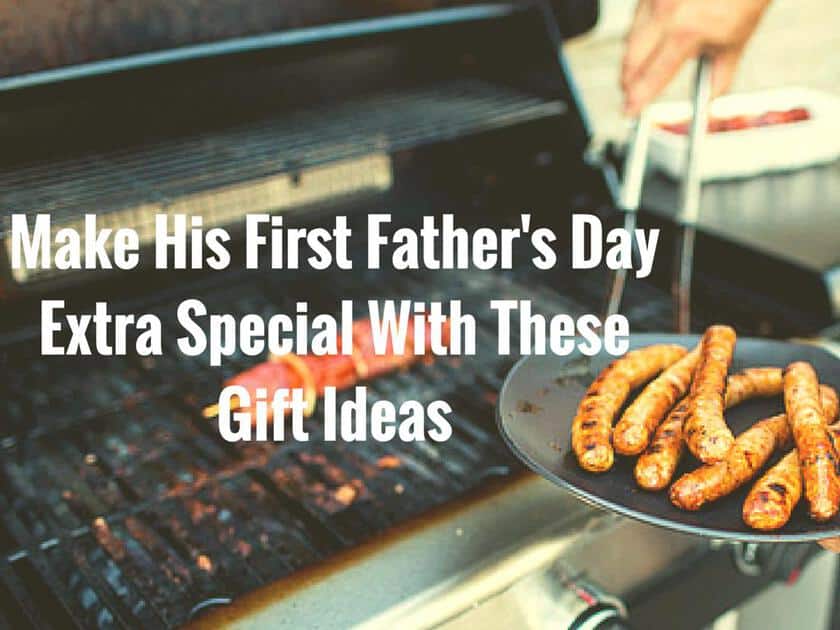 Say "no" to gaudy ties and novelty office trinkets. A dad's first Father's Day is not just a day for cheesy cards and gifts; it's a day to honor the man who is one of the most important role models in your new baby's life. Give him something he will remember forever like the gift of friends, experiences, time and laughter.
Have a Super-Dad BBQ
Your grill master won't be too upset if you schedule an afternoon BBQ cooking up some burgers and dogs with his buddies. Invite friends and other new parents over, but don't make dad do all the work. Shop and prep ahead of time so all the fixings are ready when it's time for the party. Also, ask guests to bring sides, drinks, and snacks.
Experience Gift
Is the golf course your husband's happy place? Get him a tee time on Father's Day. Do you lose him come Sunday during football season? Splurge on tickets to one of his team's home games. There are hundreds of different experience gifts that will light his fire. Arrange a day for him to indulge his hobbies and give him some time to himself (or with his buddies).
Date Night
Arrange to have the baby stay with mom or the in-laws and plan a date night catered to his interests. Start with a steak dinner at his favorite restaurant, then hit Top Golf, the batting cages or an arcade. Or, stay in with no kids, order pizza or Chinese delivery and watch that action flick he's been dying to see.
Surprise Delivery
Usually, you are the one to receive surprise flowers on the special days dedicated to you, but dad certainly wouldn't mind being spoiled with a surprise delivery. It doesn't have to be flowers, though. FTD has manly gift baskets for all types of dad interests. From a Napa Jack Barbecue Blast Gourmet Gift Basket to a Chocolate Covered Twinkies Gift Box to a personalized watch box and a lucky bamboo plant, you can make the hubby jump with joy upon delivery.
Daddy's First Scrapbook
If you have a sentimental man, put together a collage of photos that commemorate all of the "firsts" with your little peanut — their first moment together at the hospital, first hug and first nap together. This special gift will give him the opportunity to relive each moment on Father's Day and every year after that.
Baby Suiting
This is somewhat of an oldie but it's always a goodie: a trend called "babysuiting." Grab one of your husband's button downs, a suit jacket, and tie, put them together as a man would wear them and lay the suit on the floor. Next, grab your baby and button him up in the suit with his head coming out of the collar. Take a photo, frame it and give this hilarious gift to your beau on Father's Day.
It doesn't have to stop at a suit, though. We've seen babies in flight suits with aviators and dad's hockey gear. The sky is the limit. Well, your husband's wardrobe is the only limit!
Make your hubby's first Father's Day extra special by giving him gifts that he will love.