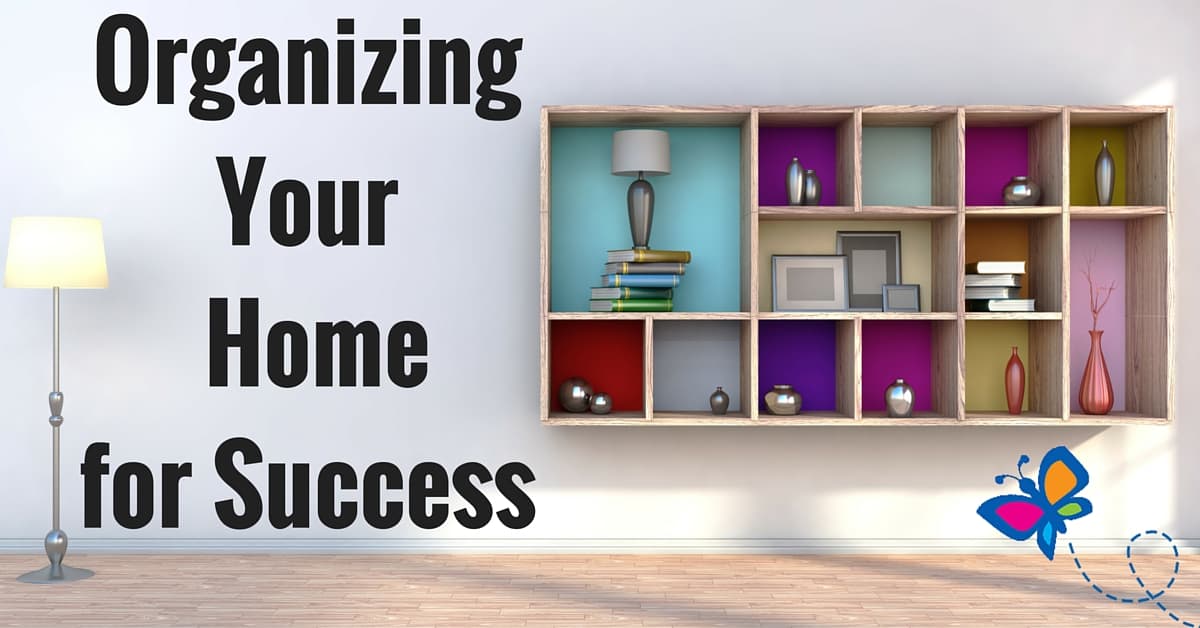 There is a relationship between a clean, well-organized home and the educational and financial success of the children who grew up there. In a study done by three university sociologists, the findings were that children completed more schooling, and earned a higher salary in clean and well-organized homes than in "not very clean to dirty" homes.
One long-term benefit of having an orderly home is that children learn this while they are growing up  under their parents' influence. It's a skill that can be applied as they move on to their teenage years during high school and then make the transitions to college and, ultimately, their own homes, whether they live alone, with friends, or with their own families.
Underlying our culture is a mentality concerning the collection and retention of material possessions. Because many of us either lived through or are children of people who lived through the Great Depression, we have been schooled in the practice of stockpiling possessions and retaining items whether or not they are useful or necessary.
With this in mind, what are concerned parents to do? After all, families have so much to organize, as every member of the family has both visible and non-visible aspects of their lives to be organized. The visible objects may be easier to deal with, simply because they are visible; these are clothing, work/school supplies, hobbies, toys, and food. But that is not all! Each member of the family also has responsibilities, relationships both inside and outside of the home, and limitations on their time and skills. Mix these variables together, and you have the equivalent of a juggling act that takes many years of practice to keep moving smoothly.
The study, "As Ye Sweep, So Shall Ye Reap," was written by Jeanne Brooks-Gunn (Columbia University), Greg Duncan (Northwestern University) and Rachel Dunifon (University of Michigan). It was published in the May, 2001 issue of the American Economic Review.
The first step to take when you want to get your family organized for success is to purge what is no longer useful.
Things that you are not using are in the way! These items form a barrier between your family members and their successful lives. Many children have too many possessions crammed into their closets, drawers, and all over their rooms. Time spent working with the family to weed out unwanted and unneeded excess in their rooms is productive. Your children probably have more books, clothing, and toys than they need or want, so help them to sort through it all.
One way to appeal to children to weed out such articles is to explain that there are other people who need and can use what they don't : children who have no books of their own, very few toys, or a limited selection of clothing from which to choose.
There are three major benefits of this activity. First, your child has a sense of contributing to another person. Secondly, this frees up some space for navigating more freely in his own room. Thirdly, you teach the lesson that it is all right to get rid of things.
Most of us are so busy with our lives that we don't take the time to implement this step. Make and keep an appointment with yourselves to accomplish this task. Perhaps you can devote the first day of a vacation to the effort; the approach of a child's birthday could be a benchmark you will use; the beginning or end of a school year is an ideal time. When you do it is not nearly as important as that you do it!
With permission from professional organizer and author Kathy Waddill, here are a few of the steps that she includes in the approach she recommends in her soon-to-be-released book, The Organizing Sourcebook: Nine Strategies for Organizing Your Life.
1. Design the system that fits your own life
There is not a right or wrong way to be organized in your home. Determining how to get organized takes some thought, though. What are the activities in which your family members are involved? By placing the toys, games, craft and art supplies, sports equipment, and homework resources at or near the places where they are used, you will save yourself from a lot of the extra effort created by having to pick up the trails of toy parts, game pieces, crochet hooks, sneakers, and markers that run throughout the house.
2. Containers are key
Here's a concept to which many people are finally catching on: place all parts of activities into containers. The see-through plastic variety is particularly useful, as you and your children will be able to see the contents before you even move the container from its location. The proper containers are also helpful in developing responsibility in young children. Assign them with the task of cleaning up when they have completed their time with the activity. It is easy for them to see on their own if they have accomplished the task or not: either all the parts are in the container or they are not!
3. Use labels
Labeling is a tool with two uses for families, as labels promote literacy as well as organization. Most important in the process of labeling is that the children be involved. That way, they get to use the words that are most meaningful to them, which is an important part in making this a system that will be useful for them. For young children who cannot yet read, you may either draw or cut out pictures; this is a pre-reading skill because you teach that there is a relationship between a symbol and its meaning. There's help if you need it!
If you need assistance to get organized, you're not alone. More than one thousand members of the National Association of Professional Organizers (NAPO) are ready to aid you in accomplishing your goals. Founded in 1985, this organization has chapters and individual members all over the United States and in several other countries. If you need a referral to an organizer near you, NAPO can be reached at P. O. Box 140647, Austin, TX 78714-0647, (512) 454-8626, www.napo.net.
The New Messies Manual: The Procrastinator's Guide to Good Housekeeping was authored by Sandra Felton, a professional organizer whose Messies Anonymous is a twelve-step program with support groups in many cities around the United States; (800) 637-7292, www.messies.com
Julie Morgenstern's Organizing from the Inside Out is a best-seller with an approach that is easy to understand and implement. How can you go wrong with Oprah's organizer?
The Simple Living Guide: A Sourcebook for Less Stressful, More Joyful Living , by Janet Luhrs is a treasure trove of ideas. Simple Living is a quarterly newsletter; contact the publisher at 4509 Interlake Ave. N, PMB 149, Seattle, WA 98103-6773, (206) 464-4800, www.simpleliving.com
Simplify Your Life with Kids, by Elaine St. James is a book that will be useful to families that would like to take a no-nonsense approach to paring down and getting away from rampant commercialism.