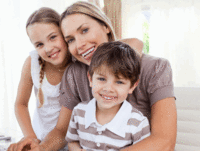 Family unique time-savers for everyday tasks  – see how creative you and the kids can be in coming up with these. Make them your own custom-solutions. Have and stick to a plan and routine to provide stability and security amidst all the change, loss, instability and uncertainty.
Prepare larger meals that you can freeze some, have for lunch for work and school and get some more time to spend with the kids, as opposed to living off junk food or spending hours in the kitchen. Making your own ready-to-eat , individual portion size meals and well as frozen family meals over the weekend can save you lots of time during the week . Plan your errands, gasoline and energy, avoid having to run back and forth all the time.
Allowing kids to be part of the household and do their part is a wonderful way of engaging them, making them part of orchestrating this new life and future that you are building.
REMEMBER AND REDISCOVER WHO YOU ARE. YOU HAVE THE RIGHT TO GIVE YOURSELF PERMISSION TO HAVE A LIFE OUTSIDE OF YOUR WORK AND KIDS!
Join a single parents club, co-op and baby-sitting circle. Ensure you eat and stay healthy, doing things that you enjoy. Friends, night out, gym, shopping for something for you, having your nails and hair done.
Having and allowing yourself time for yourself, with no kids, interruptions or demands – a quiet hour after the kids' bedtime, or a soak in the tub.
It is important that you take good care of yourself and your needs as well, while taking care of others.
EVERYONE IN THE HOUSEHOLD MATTERS AND HAVE RIGHTS, ROLES, RESPONSIBILITIES AND CONTRIBUTIONS TO MAKE.
Every child need their parent's individual attention (especially in a household with multiple children).
Spend regular quality time with each child.
Allow time for expression and conversation. Trade ideas and discussions. Have some fun together and make every moment count. Do things that the two of you enjoy doing together. Ensure some special one-on-one time with each child. You will be pleasantly surprised at how deep that bond and connection will get. Be the pillar they deserve and allow them to be the support and loving care base that you need.
NEVER LIE TO YOUR CHILD! BE HONEST AND DO NOT SUGAR-COAT THINGS THINKING YOU ARE PROTECTING AND SHELTERING THEM
Always treat kids with honor and respect. Be upfront with them and address any concerns or questions that they might have right away and to the best of your ability.
Bear the age, maturity and readiness of your child in mind, regardless of your answer or topic you are discussion.
ALLOW YOUR KIDS TO BE THEMSELVES.
Foster their unique and personal individual identity and independence. Assigning tasks and responsibilities are a great way of keeping them involved and engaged with the family life as well.
Allow them their 'freedom', they have a right to a life outside of you and home, with friends and other families with whom they can relate to and might need to mingle and spend time with. Role models do not have to physically live in the house with you to have an impact on your child's life.
SURROUND YOURSELF WITH SOCIAL NETWORKS AND SUPPORT
Do not hesitate to reach out, make connections and get the help that you need. There are numerous  single parents' groups around welcoming newcomers with supporting, loving care and open arms. YOU WILL NEED IT! Trusted work-friends or other acquaintances can help you cope better. (maybe even get ride-clubs, baby-sitting etc. taken care of)
NEVER BE TO PROUD TO ASK FOR HELP!
There is no need for you to try and be super-mom, great at everything, all alone. This is not a survival match or ego-trip. There is no reward to the 'perfect' single parent (THERE IS NO SUCH THING OR TITLE SORRY!) lean and rely on others when you need to. You might even get the opportunity to return the favor some ay.
INJECT LAUGHTER, JOY, HAPPINESS back into your lives and HAVE SOME FUN!
A balanced and relaxed lifestyle  will go a long way keeping you in a positive spirit and frame of mind – setting you up for success and results, achieving your target of getting your family back on track and set for the future.
The road does not ALL HAVE TO BE HARD! Single Parenting is one of the most rewarding activities and could be a blessing in disguise, IF YOU CHOOSE TO EMBRACE AND MAKE THE MOST OF IT!
There is nothing quite so special than the share moments with your kids, even if they are challenging, especially if they are rewarding.
There is really true value in being a connected, dialed-in, hands-on, pro-active parent showing interest in the life of your child. As a single parent, you are the one they will be looking to and up at, for answers, guidance, security and the weight of this on your shoulders can easily have you feeling somewhat overwhelmed, unprepared and even anxious.
DO NOT BE! Allow yourself to live and enjoy your life with your kids, regardless of the upheaval, challenges and obstacles. Parenting is hard work, but the life-time worth of shared milestones, bond and connection is priceless and highly rewarding.
From partnerships, alliances to conflict and battle. All will form part of the story of the lives of parent-child/children = FAMILY! It is inevitable. parental love and acceptance, guidance and parenting per se can be layered, multi-faceted and complex, even more-so if you are doing it by yourself!
We yell, we feel helpless, at the end of our rope sometimes, yet we love our kids to the end of the earth and want what is best for them always. We want to connect and reconnect with them throughout difficult times, good times and bad, uphill and downhill. We want to smile, cry, hide and encourage, even celebrate, worry and play with them! They are undeniable part of our lives and existence and we want to make the most of every moment we have with them. Single parenting sees us often over-emphasizing all of the above and losing sight of the fact that we are in this together. We have to recognize that we can learn a lot seeing and looking at things through the eyes and perspective of a child.
Parenting is not all about chores, its is also about playful enjoyment and celebration of family life, each other and your interaction.
Play, from the earliest days of baby and parent is the way of choice for us to engage and interact with each other. This does not have to change necessarily. Although life is no game and can throw some terrible punches at us, we can get through it together. They who play together stay together! Foster this closeness as opposed just doing your own thing alone as a single parent. You do not have to 'isolate' yourself and your family due to your situation. You can and should GO IT TOGETHER.