Hey parents! Halloween is right around the corner, and we all know that means it's time for some spooktacular trick-or-treating! But before your little ones go out on their candy-collecting adventures, let's talk about some parenting hacks to ensure a safe and enjoyable experience.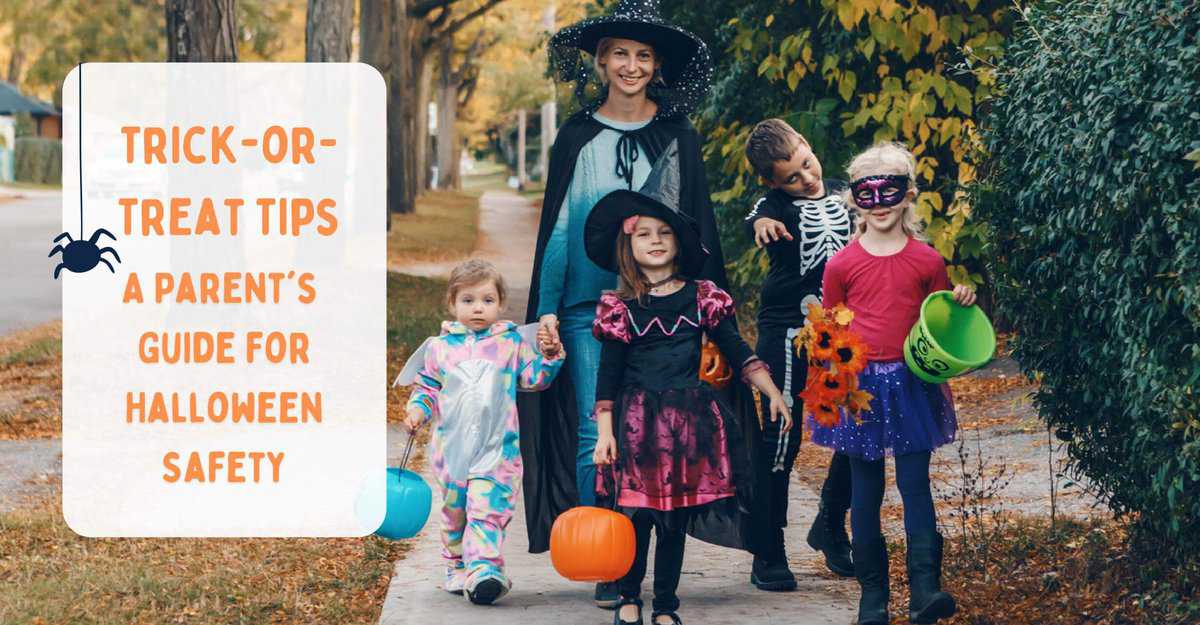 As parents, we always want to make sure our little ones are safe while they're out collecting candy. Parenting Today from Child Development Institute is here to help you with some nifty tricks and treats to ensure a spooktacular Halloween experience for the whole family. From costume safety to navigating the neighborhood, we've got you covered. Let's dive in and make this Halloween one to remember!
Costume Safety Tips!
Scary costumes are a staple of Halloween, but safety should always be a top priority!
Make sure your child's costume is visible in the dark. Consider incorporating reflective materials or adding glow-in-the-dark accessories. This will make your child more visible to drivers and other trick-or-treaters. When choosing or making costumes for your little ones, consider using reflective tape or glow sticks to increase visibility in the dark. This way, drivers and fellow trick-or-treaters can easily spot them.
Select costumes that are flame-resistant. As Halloween is filled with candles and jack-o'-lanterns, this precaution can help prevent accidents and potential injuries.
Another important consideration is the length of costumes. Make sure costumes are not too long to avoid tripping hazards. And don't forget about comfortable shoes! Your kids will be doing a lot of walking, so make sure they have suitable footwear that won't cause discomfort.
Remember that comfort is key. Choose costumes that are not too tight or restricting, allowing your child to move freely and comfortably. Also, avoid masks that obstruct their vision, as this can increase the risk of accidents.
Take into account the weather forecast. If it's going to be a chilly night, add layers underneath their costume without compromising their safety. A warm and cozy costume is a win-win!
Proper footwear is also a must. Make sure your child is wearing comfortable and sturdy shoes, as they may need to walk long distances during their trick-or-treating journey. High heels or slippery soles can lead to trips and falls; no one wants that on Halloween night!
Candy Inspection – Treats that Are Safe to Eat Only!
Treat-wise decisions. We all know kids love their candy, but setting some ground rules is essential. Teach your children to wait until they get home to enjoy their loot. This way, you can inspect their goodies and remove any questionable treats.
Discuss with your child the importance of not consuming any candy until an adult has inspected it. Teach them to avoid eating homemade goodies or treats with damaged packaging. As tempting as it may be, it's better to be safe than sorry.
If your child has any allergies, it's essential to be extra cautious during Halloween. Ensure they carry their prescribed allergy medication with them while trick-or-treating. Before consuming any candy, read the ingredient labels carefully to check for potential allergens.
When examining the treats, look for any signs of tampering or unwrapped items. Check for expiration dates and allergen information to ensure the treats are safe for consumption. It's also a good idea to ration the candy, as too much sugar can lead to stomachaches and other health concerns.
Consider implementing a candy exchange program where your child can trade some of their less desirable treats for healthier options or small non-candy treats. This will help balance their sugar intake and promote healthy snacking habits.
Trick-or-treat together!
By trick-or-treating together, setting boundaries, and supervising your child, you can make sure that Halloween remains a safe and memorable experience for the whole family.
It is crucial to keep an eye on your little ones as they knock on doors. Tag along, chat with other parents, and enjoy the community vibes while ensuring your child's safety. Plus, who said trick-or-treating is just for kids? You can join in on the fun, too!
One way to ensure your child's safety during Halloween is to plan their trick-or-treating route beforehand. Take the time to map out a route in a well-lit and familiar neighborhood. This will make it easier for both you and your child and give you peace of mind, knowing they are in a safe environment. Another important aspect of planning is setting a time limit for your trick-or-treating adventure. Depending on your child's age, it might be a good idea to establish a specific time to start and finish the festivities. This will help prevent your little one from getting overly tired or staying out too late.
Lastly, reinforce the importance of staying with an adult or in a group while trick-or-treating. Remind your child only to visit well-lit houses and never to enter a stranger's home or car. With these safety tips in mind, you can ensure a spooktacular and safe Halloween for your little one.
Another tip is to establish a buddy system. Encourage your child to go trick-or-treating with a group of friends or an adult. This way, they can look out for each other and have someone to turn to if they feel uncomfortable or unsafe. Additionally, equip your child with glow sticks, flashlights, or headlamps so they can easily see their surroundings. Encourage them to stay on well-lit paths and sidewalks and to use crosswalks when crossing the street.
To further ensure safety, discuss with your child the importance of staying away from candles and open flames, as many Halloween decorations involve these. Teach them to be mindful of their surroundings and watch out for tripping hazards, such as stray cords or uneven walkways.
Have a blast! Halloween is all about having fun, so let loose and enjoy the spooky vibes with your little ones. By following these parenting hacks, you can ensure a spooktacular and safe trick-or-treat experience for the whole family!  Safety is key, but Halloween is also about creating fun memories for your little ones. So don't forget to take lots of pictures, laugh, and enjoy the magical moments together.