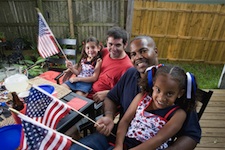 There are all kinds of ways to celebrate Independence Day. You can go the traditional route and have a picnic or cookout, or you can get creative by singing songs, putting on historical plays, or making your own decorations. If you're looking for ways to celebrate Independence Day, here are some ideas including:
Fun Activities
BBQ Recepies
Craft Ideas
1. The picnic
Make this traditional Independence Day celebration your own unique experience. Make a red, white and blue berry cake and bring along a red, white and blue picnic blanket or tablecloth. You can even lay out three different tablecloths or blankets to get the effect. Pack all-American food like apple pie and potato salad. There are all kinds of picnic themes that would fit the celebratory mood, from a period costume party to a 1950s-style "Americana" picnic.
At the picnic, play some appropriate games. Fly a patriotic kite (weather permitting), or play the American game of baseball. Frisbee is another popular picnic game.
2. Decorations
You can decorate your house inside and out to celebrate Independence Day. Strings of lights aren't just for Christmas; in red, white and blue they make a festive summer decoration for the occasion. Fly the flag in your yard or porch. You and the kids can make decorative crafts, such as red, white and blue paper chains or window stickers. Other ideas include:
Pinwheels on stakes in your yard in red, white and blue or flag patterns
Red, white and blue paper lanterns
Red, white and blue balloons tied to your mailbox, porch, or other area of your home and property
Red, white and blue streamers in your house or porch
Just remember to be responsible with your outdoor decorations – it definitely does not show appreciation for your country if you litter!
3. History
See if there are any celebrations in your community that are historical. There might be re-enactments to attend, or activities to participate in. You might even want to organize such an event yourself. In your own family, you can celebrate the history of Independence Day by having family members read sections of the Declaration of Independence aloud. Check your local library for books you can read aloud to your kids, or that older kids might enjoy reading themselves.
4. Fireworks
As long as you are not in violation of local or state laws, setting off some colorful fireworks can be a lot of fun. Just be considerate – think about your neighbors, and don't set fireworks off too late in the evening. Also remember to be safe – be sure you have all the proper equipment, and keep any such items out of children's hands. Make sure everyone is at a safe distance when you set them off. Have a fire extinguisher handy.
In lieu of fireworks, you can set off sparklers and other fun items that snap, spark, or otherwise produce a sparkling effect without the concerns of fireworks.
Independence Day BBQ Recipes
Cooking out on Independence Day is traditional and fun. If you are thinking of cooking out this July Fourth, you might be wondering what kind of food should you serve, or if you should have a theme. Here are some ideas for foods and meals for an Independence Day barbecue.
1. Main course
There is nothing wrong with going strictly traditional here – burger, hotdogs, and steaks are fine and uncomplicated. But if you want to get a bit creative, try some of these main course ideas.
Multi-cultural kabobs – If you want to have a multi-cultural theme, or just celebrate the American melting pot, try grilling kabobs in various flavors.
For an Asian flavor, the kabobs could include chunks of chicken, bell peppers, and onions with a soy sauce or teriyaki marinade/baste. Greek kabobs could have grilled chicken and onion chunks flavored with lemon juice, olive oil, and Greek herbs, and put on the skewer with grape tomatoes and topped with feta cheese.
Make Hawaiian kabobs with chunks of pineapple and ham, served with Macadamia nuts. For Middle Eastern-style kabobs, use garlic and lamb with spices like curry and cumin. Kabobs are a great way to serve multi-cultural flavors in one barbecue.
Ribs – Barbecued ribs are a traditional American favorite for the Fourth of July. Baste them well with sauce if you like, and serve with grilled corn.
Pork Barbecue – If you don't want to grill ribs, you can grill a pork roast, then carve it up and serve it with barbecue sauce on buns.
2. Vegetables
Grilled vegetables are really special. You can grill just about any veggie, but for Independence Day, why not focus on American veggies like potatoes and corn? (While corn is a grain, it is usually served as a vegetable at your average barbecue.)
Before grilling, toss potato wedges in oil, salt and pepper. Lay them on the grill and cook until they are browned. Corn really does not need any particular flavoring during grilling – just lay shucked ears on the grill and turn them often. Brush with melted butter when done.
3. Dessert
Apple pie, of course, is traditional American fare, and presenting one at a barbecue will undoubtedly please your guests. There are other creative ideas for desserts, too.
Dip fruit in melted white chocolate. Then melt more white chocolate and divide it into two portions. Color one portion red and the other blue, then drizzle over the white chocolate-dipped fruit.
Mix mini marshmallows with blueberries and strawberries for a sweet fruit salad.
Watermelon served alone makes a great dessert, or you could dress it up a bit by carving it into a basket shape and filling it with fruit.
Make a fruit pizza using vanilla cookie dough (press into a circular pizza pan, bake and cool), cream cheese icing, and blueberries and strawberries. Drizzle with melted white chocolate.
Independence Day Craft Ideas for Toddlers
Many toddlers love crafts. Why not introduce them to the Independence Day holiday this way? Here are some ideas for celebrating this Fourth of July with toddler crafts.
1. Patriotic Top Hats
Let your toddler sport this homemade hat proudly!
Supplies:
* White poster board
* Red and blue construction paper (large sheets)
* Scissors
* Glue and/or staples
* Pencil
# Note – you can use white posterboard instead of construction paper for the tube and the rim.
Directions:
Roll a piece of posterboard into a tube and secure with glue or staples. Make sure the tube fits your toddler's head.
Cut strips of red and blue strips of construction paper, wrap them around the tube, and glue into place. Leave white between them so there will be red, white and blue stripes.
For the hat's rim, lay a piece of posterboard on a flat surface, and set the striped tube in the middle of it. Trace around the tube to make a circle. At four equal points around this circle, draw four square tab shapes facing into the circle. You will cut out this circle but leave the tabs. When you cut, don't cut in from the sides; start in the middle.
Once the center circle is cut out, cut a larger circle around it – that's the hat's brim. You will have a large ring shape with tabs around the center circle. Set the striped top of the hat into the cut-out circle, and fold the tabs inward and glue them.
2. Patriotic Star Wand
Let your toddler pretend to make the fireworks happen with this "magic" wand.
Supplies:
12- to 18-inch wooden dowel in the thickness of your choice (1/2″ or 1/4″ works well)
White craft foam
Glitter glue in red, white and blue
Loose glitter in red or blue
White glue
Scissors
Directions:
Coat the dowel in white glue and roll in the glitter color or colors of your choice. Lay it aside to dry – a wax paper-covered tray should work.
While it's drying, cut two equal star shapes from the white craft foam. You might want to use a pre-cut star pattern, or cut one star and use it as a pattern for the second.
Put white glue around one of the star's five points, leaving a glue-free place between one set of points (this is where you will insert the dowel later). Lay the second star on top and lay flat to dry.
Decorate the stars with glitter glue, or with white glue and glitter sprinkled on. Once the stars are dry, carefully find the non-glued spot. Make sure the dowel will fit. Then fill the spot with glue and insert the dowel. Let dry overnight.
There are other crafts you can do, too. Think of star-spangled centerpieces for your table or picnic, or decorated cups to hold treats. And have fun!
Independence Day Craft Ideas for Teens
Crafts aren't just for little kids! Teens can get in on craft-making, and it's a good way to celebrate Independence Day with your teens. You have to move beyond the simple crafts of childhood, but there are all kinds of sophisticated crafts that teens can enjoy. Here are some ideas.
1. Necklaces
Boys and girls both wear necklaces, and they can also make good gifts for teens to give each other. Fabric necklaces are a great way to make a necklace that is not necessarily gender-specific. Here's how to do it.
Supplies:
Piece of old clothing or cloth, about 2 feet long and 1 inch thick.
Beads in Fourth of July colors and/or designs
Scissors
Needle-nosed pliers
Directions:
First, lay out your design of beads in a row. Then, fold the end of the fabric strip into a point and poke it through the beads. String them on the fabric in the order of your choice, using the pliers as needed. The beads will be tight on the cloth, so you can space the beads however you like. When you're finished, tie the ends.
2. Bracelets
Use stretchy fabric and a smaller strip of cloth to make an Independence Day bracelet.
3. Headband
For a festive headband, your teen can make the above necklace using stretchy fabric that's a bit wider, and thicker beads.
4. Tote Bags
There are so many tote bag ideas for teens. You can use anything from duct tape to old tank tops to make a tote bag. Here is one idea for a patriotic tote bag for your teen to make using duct tape (the resulting waterproof tote can be used for the rest of the summer for trips to the pool or beach).
Supplies:
Duct tape (you'll need about 20 yards) in blue, red, and silver (or white if you can find it)
Scissors
Directions:
What you'll be doing is making duct tape "sheets" by attaching the sticky sides of multiple strips of duct tape. Begin by laying 8 pieces of duct tape, 16 inches long, sticky-side-up on a table or clean floor. Make sure the strips overlap slightly. Repeat the procedure, but this time lay the strips sticky-side-down onto the previous strips. When you're finished, there won't be any sticky part showing.
Do the same thing to make two duct tape sheets with rough edges.
Lay one sheet on top of the other, and trim the edges so that they are even, equal squares.
Attach three edges of these squares using strips of duct tape folded over the edge. On the fourth side, which will be open, you can add a strip of duct tape on either side of the opening so that all 4 sides have a stripe.
For two handles, use a 20-inch piece of duct tape folded in half lengthwise, sticky-side-in. Then tape the ends of this folded strip to the inside of the bag's opening.
If you like, cut decorations from colored duct tape and stick them to the outside of the bag.