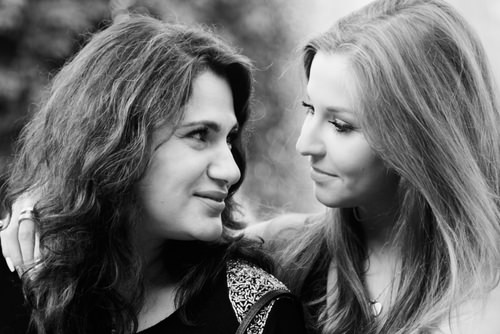 Busy lives and typical teenage behavior sometimes make it difficult to find quality time to spend with your teenager. Yet while their behavior may say "leave me alone",  teenage girls really do crave quality time with their moms. It can be a difficult balance. However, the time you spend together now can have a lasting positive impact on your daughter's life. The following activities may help you bond with your teen daughter and solidify that connection you've worked so hard to create.
Keep Fit Together
Find a fitness class that your daughter may be interested in. It might be anything from yoga or dance to soccer or kickboxing. Discuss your options and sign up and take a class together. This gives you a weekly activity to look forward to. You can celebrate each other's success and enjoy staying fit. It's also a good way to continue helping your daughter develop a positive body image. Sports and fitness activities teach women to appreciate what their body is capable of. It builds confidence and a healthy mindset.
Play Hooky
If weekends aren't an option, then consider a weekday. This isn't an activity that you can repeat often, but once or twice a year you might skip work and take your daughter out of school. Spend the day together. Go to lunch. Go see a matinee movie, head to the spa, or go shopping. Teenagers enjoy and appreciate traditions. You and your daughter can make your day an annual event.
Take a Day Trip
Teenagers tend to open up in the car. It's amazing the conversations that you can have with your daughter while driving. Plan a day trip, just the two of you, and head out for an adventure. You might drive somewhere for a hike or head to a nearby city to play tourist. Visit galleries and museums, go shopping, or attend a festival.
Related: Teens Tend to Overreact to Criticism from Moms According to Recent Brain Research
Volunteer Together
Does your daughter have a soft spot for horses? Does she love children? Find a cause that is near and dear to her heart and volunteer together. Check out the humane society, local hospitals, and other charities to find something you can both get behind.
Get Creative
Embrace a creative hobby that your daughter is interested in. If she loves knitting then take a knitting class together. Take a writing class, learn to paint, or enjoy pottery. Photography, baking, and even interior design are all creative endeavors that you can enjoy together. You don't have to be good at crafting to enjoy this time with your daughter.
Pay attention to her interests and  personality. Use that information to find activities that you can share. If possible, make it a regular occurrence so that you both have something to look forward to. Consistent quality time together helps cement your relationship and create a bond that lasts.