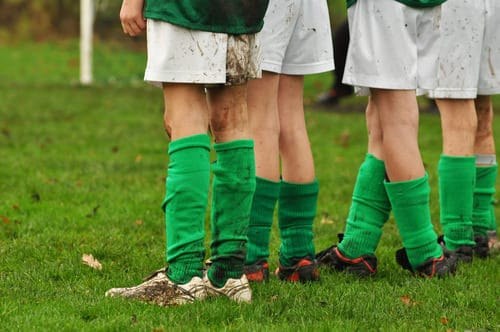 Although after-school sports are a fixture at most schools, recently collected data suggests that the number of children participating in sports is decreasing every year. Below are possible reasons for the downward trend and how you can inspire your children to enjoy sports.
The Verdict Is In
Many kids are moving away from organized sports. With the obesity epidemic in America, this is not a move in the right direction. What are some reasons that you child might not be interested in playing a sport this season?
Too Much Pressure
Kids like to play with other kids and have fun. But the emphasis on the importance of winning is often paramount to any enjoyment they may get from participating in the sport itself. For parents who live vicariously through their kids, the weight can be crushing.
Negative Feedback
Every game played is something that your child can be proud of, regardless of whether or not their team wins. Constant negative feedback is not an incentive to keep playing your best – it's a quick way to inspire stress, shame, and anxiety in your child's approach to playing sports and staying active.
Exhaustion
Practices and games can be long and exhausting for children, especially after a long day at school. Running kids into the ground is detrimental to both their minds and their bodies. While it's important to instill the practice of an active lifestyle in your kids, it's also important to make sure that your kids live a balanced life.
Lack of Interest
Not all kids are soccer players or ice skaters or artists. Get to know your child and what sincerely interests them. Figuring out what sports and activities are truly enjoyable for them will help them to become more individualized and happy beings.
How To Help Your Kids Enjoy an Active Lifestyle 
Here are some ways to gently coax your kids into lifelong enjoyment of group activities.
Pep Talk
Kids put a lot of pressure on themselves to perform. Ease their anxiety by encouraging them to always do their best but reminding them that winning isn't the only thing that matters. Stress that they're there to have fun and not to take themselves too seriously.
Positive Feedback
Support your kid whether they win or lose. Cheer for them and be positive about their game performance.
Practice Is Not Bootcamp
Talk to your child's coach if you think they're going overboard. While learning discipline and dedication through playing organized sports is perfectly acceptable, your kids are playing sports to be active and have fun. Your child should not be too tired to function regularly in school, do homework, spend time with family and friends, and do other fun activities. Nor should your child's coach treat his players like they're recruits.
Encourage Time Away
Sports take up a lot of time. Find ways throughout the week for your kids to do other things that they enjoy. The summertime is a particularly opportune time to introduce your kids to new activities that aren't available during the school year.