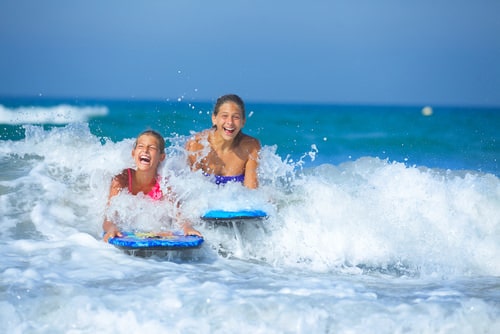 There is no better time than summer to encourage your child or teen to try a new activity. Summer is filled with lots of outdoor activities like going to the beach and swimming in the pool (and, let's face it, sleeping till noon if you're a teenager). However, all that wears thin very quickly. Take this opportunity to introduce new hobbies to your teen or child.
1. Take Up Music Lessons
Summertime is a great time to learn how to play a new instrument. There is much more time to practice during the summer than there is during the school year, and if your child or teen is like most, they are sleeping plenty and are well-rested.
It's wonderful to introduce music lessons when your child is more relaxed and has the time to actually enjoy it. It won't feel like it's something on their to-do list as much as it will feel like a hobby. Great instruments to start your child on are piano, guitar, flute, drums, violin, and saxophone, as well as many other types of stringed, wind, electronic, and percussion instruments.
2. Try a New Sport
If your child has been playing the same sport such as football or soccer during the school year, now is a great time to start summer-related sports. There are a myriad of sporty summer activities for your children to try. Some of the most widely available are surfing, swimming, golf, volleyball, badminton, basketball, Frisbee golf, boogie boarding, tennis, skateboarding, rollerblading, and biking.
The possibilities for summer sports are numerous and your child can find something age-appropriate, fun, and enjoyable that brings them together with other children or teens their age.
3. Summer Sports Camps
If your child is not sure which sport he or she is interested in, signing them up for a summer sampler sports camp works wonders. Your child or teen can try out different sports and find one that will carry over into the school year and perhaps beyond.
4. Get Creative
Summer is a great time for getting messy. Teens and children can paint outdoors, work with clay or sand, or spend time doing any type of arts and crafts project that they're interested in. Being creative outdoors saves your dining room table from paint and glue accidents while exposing your kids to nature.
Drawing outdoors is another wonderfully creative outlet for children of any age, no matter their skill or talent level. Classes held strictly outdoors are another great way to get creative against the backdrop of nature.
5. Build Something
Before summer camps were popular, kids of all ages from around the neighborhood gathered to build stuff from old throwaways and junk. Today's garbage is a bit more sophisticated. Sometimes families throw out perfectly good materials such as lumber. Salvage that lumber, find some paint and a few wheels from an old wheelbarrow, and teach your kids how to build a basic go kart. Other classic projects to delve into are forts, tree houses, and birdhouses.
Related: Summer Camp Guide for Parents