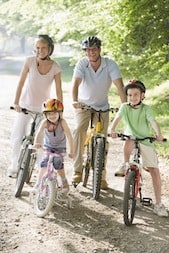 Staying fit is important at any age. Maybe you want to get your family active but don't know how to go about it. Here are ten good ideas to help educate you on fitness so you can make changes in your life.
Obesity is an epidemic in our world today. It is not just eating more fattening foods but the lack of activity that is contributing to the problem. As a family unit, you can help turn things around one day at a time. Try one idea and then another.
10 tips to make fitness fun and easy
No one necessarily wants to exercise. Doing it alone can be a chore, but when you are with another, say a family member, it can become friendly competition that benefits all involved. Try the following.
Talk to your family – We all could be a little more active each day. Encourage your family by telling them that you are doing it together so the person with the most weight to lose is not singled out. Everyone works together.
Have fun – Especially for kids, an activity that is fun is more likely to be repeated day after day. They may even remind you about an activity if you forget.
Make fitness more accessible – It can be a hassle driving to the gym if it is not close. Also coordinating schedules could be a nightmare. For days when you can't get away have equipment home to work with. Try DVDs, exercise bands, free weights or bicycles.
Take a class together – The best thing about classes is that no one is looking at you but at the instructor. Zumba is a hot dance exercise craze that is a great calorie burner for men, women, young and old.
Play sports – Organized sports not only builds physical endurance but also camaraderie in the family. It doesn't have to be a school team but a church or neighborhood team.
Plan healthy meals – Exercise is only a part of the equation. If you want to see your body transform quicker, make small changes each day to your household eating plan.
Do something every day – There is nothing like consistency to bring about change. Plan to do something together each day even if only one or two can participate. Eventually everyone will be able to get on board.
Buy sporting equipment – You can find items at a good price so that physical activity is only a few feet away at any one time.
Prepare the back yard for fun – Anytime you want to have a friendly competition you can go outside. Keep the yard set up with volleyball net or bases for kickball or whiffle ball.
Be a role model – Kids are more apt to follow what they see. If you, as a parent, are active they will try to follow suit.
You can turn things around in your family. It is never too late to get healthier and more active.