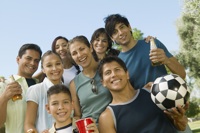 Teens get involved in a lot of things in high school. Some are involved in clubs and others are part of the band. There are many reasons why sports are great for teens and here's how they can get started.
One of the biggest benefits for teens to be involved in sports is that it keeps them active. Some teens would be content to play video games or watch television all the time they're at home. If a teen spends all their waking time being inactive they could gain weight and become unhealthy. Being a part of a sports team will help them burn calories and build muscle tone so they will remain healthier.
Being on a sports team will most likely encourage your teen to stay hydrated. High school coaches are going to do their best to keep their team members healthy. This means they might explain how to eat healthy, and the importance of drinking milk to get enough calcium which is necessary for healthy bones.
Be sure your child knows to warm up properly before playing any sport. Warming up before any physical activity will help your child avoid injury. This is a good practice whether they're practicing with the team or exercising on their own.
Encourage your teen to try out for one high school sport. Perhaps they're not comfortable with the physicality of football, but that doesn't mean they wouldn't excel in swimming or tennis. They may also enjoy playing baseball or soccer. Girls may enjoy basketball, swimming, gymnastics or softball. Ask your teen's school which sports are offered and how they might join the team in which they have the most interest.
Many sports will require that students try out before being able to join. Try-outs may include showing how active your teen is, running, jumping or if they are quick enough. They want to ensure your teen has at least the minimum skills required for the sport they're trying out for.
Your teen may not feel that they're good enough to make their high school sports team. That shouldn't dissuade them from trying to play team sports. There are often teams with the YMCA or other leagues which are just for fun rather than for serious athletes. Swimming and bowling are less often thought of as sports but both can give your teen the ability to be part of a team.
Being a part of a sports team can also help your teen make friends. Athletes almost become like a second family. They spend so much time during practice and at games that they can become very close. Of course, no one will be able to take your place as their family, but you'll be glad they're able to make good friends.
Finally, if your teen is very good at the sport they've chosen, they may be able to get a scholarship to go to college. A sport scholarship can help your child be able to afford the college they want to attend. It can also open doors of opportunity they may not have otherwise.
Do everything you can to encourage your teen if they tell you they want to try out for a sport. Help with fundraisers and go to their games. They'll be glad to have your support and you'll be glad for the many benefits of why sports are great for teens.
Parent Tool Kit:
Why Sport is a Great Outlet for Teenagers
Health & Fitness Resources