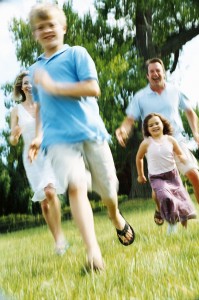 Staying active is important for remaining healthy. One way to ensure your family stays healthy is by participating in family fun runs. They're a great day out for the whole family.
Some people aren't that familiar with fun runs. Fun runs are set up over a one to five mile course. Rather than racing against other runners, they are often set up as a means to raise funds for a community charity.
Quite often fun runs coincide with holidays. You may have heard of the St. Patrick's Day fun run, Fourth of July fun run, or even the Santa's fun run. Look in your local newspaper to see if there are fun runs planned in your area. Another place to look would be at the community recreation center. School athletic instructors or coaches may also learn of fun runs your family can participate in.
Fun runs are also often associated with fundraisers. Perhaps your local library needs to expand, the children's hospital has needs to be met, or another organization or charity needs to raise money. Running for a charity or fundraiser may give your family the encouragement it needs to keep going.
Why do you want to participate in a fundraising fun run? Here are a few reasons to consider:
Running as a fundraising event allows everyone in your family to make a difference as well as improve their health, enjoy the time outdoors, and help an organization or charity to boot. It's a win-win-win activity.
It's easy to get involved in a charity family fun run. You don't need special equipment. All you need is the time to train and then run and a good pair of running shoes.
You can make new friends through fundraising runs. You'll find people or families who have similar interests which is a great way to develop new friendships.
Not only does running make you feel good, knowing you've done something to help others will make you feel good, too.
If your family plans to participate in a fun run, it would be best to work up to it. Even though the goal is not to win a race and you can walk if needed, you may still want to get the whole family to begin training. Begin training about ten weeks before the actual run so you're ready.
Start out slow and for a short distance. A walk around your block would probably be a good place to start. Each day you can either add distance or walk at a quicker pace. Remember to keep in mind the speed of your youngest family member.
Your goal, rather than going as fast as you can or competing against one another, is to enjoy yourselves. Walk or jog at a pace where you can carry on a conversation. And don't leave anyone behind.
Family fun runs can be a great day out for the whole family. Enjoy the time you're together as you participate. When the fun run is over, why not keep running together as a family? It can help you stay connected as a family while you're staying active.