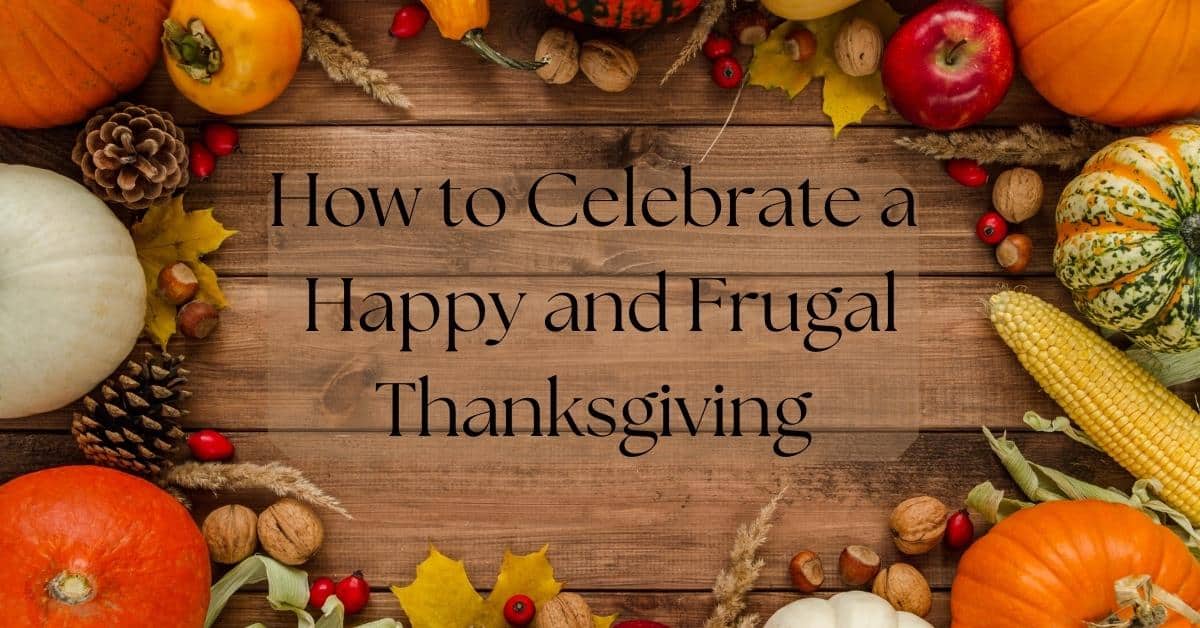 Each year the cost of having Thanksgiving dinner rises. Experts will tell you the increase in prices is due to simple supply and demand. Perhaps there has been a drought which means some fruits and vegetables aren't available this year in the same amount they've been available in the past. Many of these cost increases are due to the price of gasoline to ship items across the country. These increased shipping costs are then passed on to the consumer through higher food prices.
No matter the reason why the cost of having Thanksgiving dinner has risen in recent years, families in today's economy are interested in hosting frugal Thanksgiving celebration and need ideas for enjoying the day with loved ones without breaking the budget. 
This article will give you many ideas to choose from. Look them over and pick the ones which will work best for your family. By using some of these tips you may find you'll actually save money rather than watching your holiday be ruined by high prices.
Plan Ahead
The best way to have a frugal Thanksgiving celebration is to plan ahead. This includes planning the menu well in advance, looking for sales on items you'll use for Thanksgiving, using coupons for those items and asking others to pitch in if several families are eating at your house. You can also save by preparing some items days or weeks ahead and refrigerating or freezing them. Let's look into these areas to begin your search for a frugal Thanksgiving celebration.
The budget – Planning your menu well in advance of the holiday is one of the best ways to control costs. If you haven't already done so, you may want to start a three-ring binder or folder for your Thanksgiving plans. You'll want to include the following items in your binder: budget, guest list, food list, shopping list, advertisements and coupons. Let's look at each one in more depth.
Have you been saving for the Thanksgiving meal? Even if you haven't been saving for it you can still reduce the cost of the day's meal by spreading the expense over a couple of weeks. Once you know how many people will attend and what foods you'll need to prepare for the meal you'll have a better idea of what you need to spend. You'll also be able to determine how to spend the allotted funds to get the most "bang for your buck."
If you're hosting the Thanksgiving meal for a large number of family and friends chances are you'll be expected to provide the turkey, some beverages, a dessert and the paper goods. (Using normal place settings, even if they don't match, will be better for the environment but will take more effort to clean.) Depending upon how many people will be attending, you may also be required to prepare a side dish or two. The sooner you know what is expected of you the better you will be able to develop a concrete budget.
Of course, not everyone gathers together in large groups during Thanksgiving. Some people live long distances from their family and traveling is expensive. If only your immediate family will be having Thanksgiving dinner the budget will be entirely different. You'll have to provide everything for the meal and will want to find the best prices, sales and use coupons to save money.
Keep a copy of your budget in the binder for future reference. This will help you understand your spending habits over the course of several years. You'll also have the budget to go back and look at to help you be better prepared for next year.
A guest list – For many families the guest list is probably already set. If your extended family gathers together like they would during a family reunion you could have a bunch of people at your house! Contact each family group and find out how many people will be coming. In many cases this will be the same number of people each year, but as families change over the years the number could be different. Knowing how many people to plan for will help you know how much food you'll need.
Perhaps you don't live near family but still want to have more people than just your immediate family over to celebrate the Thanksgiving holiday. Give serious thought to who you want to invite. Ask them in plenty of time so they will have an opportunity to verify they don't have another obligation. You'll also want to ask them to respond to your invitation at least two weeks in advance. Any less notice may cause undue stress and running around to ensure you have plenty for everyone to eat.
Use your guest list to keep track of who is able to come and who is not. Maintain copies of your guest list from year to year. This will help you identify people in photos that are taken. You can also use the guest list to write down names of spouses and children you don't see that often.
Be sure to write down telephone numbers, addresses and email addresses so you can easily contact each family as needed. When the holiday is over you can transfer any new information from your guest list to your permanent address book. Share this information with each family so they'll have updated information when it's their turn to host the family. Sharing your list will also help keep the family abreast of what's going on in each other's lives.
Discuss with the cooks in each family to determine what they will bring. Perhaps they have a family favorite they bring each year. Be sure to write their name down by that item. Then make a list of who is bringing each item on the menu so you can be sure everything is covered. For items which haven't been spoken for your family may choose to provide that dish or ask someone else to bring it. Providing and using disposable plates, silverware and glasses will mean there isn't too much clean-up to be concerned with after everyone's ready for a nap.
Try to make a copy of the food list for each family after the list is finalized. Include a telephone number for each person providing food in case something occurs which makes it necessary to make changes. The list will also let everyone know what foods to expect and help remind them what they have promised to provide.
If your family is dining alone this year, you can still use these ideas. Choose which dishes you'd like to serve this year. You probably have some dishes which are standard fare for Thanksgiving Day. Why not fix several of those but also try a few new recipes, too? This can be particularly helpful if the items you normally purchase for Thanksgiving dinner are more than you'd like to spend this year.
Shopping list – This list will be based on the foods your family will prepare and items you'll provide for the Thanksgiving meal. Of course you'll have to purchase your family's regular meals up until Thanksgiving so this list will be in addition to your normal grocery shopping list.
Don't forget to look through your pantry and freezer to see if you already have some of the items you need for what you're going to fix. Foods have limited shelf life so you'll want to use up the items you have on hand rather than buying something new. This doesn't mean you can't buy something to replace what you're going to use, but you don't want to buy something if you don't really need it.
Make a list of everything you need for the dishes you'll prepare. You may want to include columns for each store you normally shop. Write down what each grocery store is charging for each item. This will help you compare prices and ensure you're spending the least amount possible for each ingredient in your dish.
Mark off each item as you get it so you don't buy extras you may not need. It may be helpful to keep track of your receipts so you can see how closely you're sticking to your food budget. This will also help you remember what you spent this year to see how much prices have changed. Even though this information may not seem important you'd be surprised how many people wonder how much they spent for cranberry sauce last year or something along those lines.
Advertisements – Leading up to Thanksgiving there are normally sales on foods typically prepared during Thanksgiving. If you don't have a sales flyer or advertisement from your local stores you'll never know what is on sale. Knowing what is on sale will help you save money for Thanksgiving and any other time you go shopping.
Coupons – Millions of people save money on their food budget each week by using coupons. Newspapers will often have coupons in them on Sundays. You can purchase a subscription to the Sunday newspaper for most large newspapers which will hopefully bring coupons to your door each week. Or you can go out on Sunday morning to purchase a newspaper and take a chance that there are actually coupons in that week's paper.
Look for Specials – Some grocery stores will have specials leading up to Thanksgiving that are above their normal sales prices. These will be clearly advertised both in the store and print advertising. For instance, your grocery store may offer points toward the purchase of a turkey when you spend so much money each week. Sometimes you can get the turkey at a greatly reduced price or even free. This type of sale can be useful if you normally spend that amount each week but it wouldn't be worth it for you if you had to spend more than normal simply to get a turkey.
Prepare Ahead
Along with planning ahead you can also have a frugal Thanksgiving celebration by preparing ahead. There's absolutely no reason why you should have to do all of your cooking on Thanksgiving Day. Try to find ways to prepare some of the foods you'll serve days or weeks ahead.
Obviously you don't want to pre-cook the turkey because it would be dried out by the time you ate it. However, there are many other side dishes you can get ready before the fourth Thursday in November arrives. Think about making some of these dishes a couple of days before and place them in the refrigerator where they'll be ready to warm up and serve in no time. Desserts can often be made several weeks prior to the time they're needed.
Are you planning to make a dessert? Traditional Thanksgiving Day pies such as pumpkin, apple and pecan can be made several weeks ahead of time, cooled and then frozen until they're needed. Some pies will keep for up to six months if wrapped properly before storing them. When Thanksgiving arrives, take the pie out of the freezer and pop it in the already warm oven while everyone is eating their meal. It will be ready to come out when you're ready for dessert.
Think about how you cook when you're rushed to cook everything in time to eat on Thanksgiving Day. You're more likely to use pre-packed pie shells, canned foods and boxed stuffing. By giving yourself time to make some of the dishes ahead of time you'll be able to make them from scratch. Imagine the surprise on everyone's faces when you tell them the dressing does not come from a box, the cake wasn't made from a mix and the pie shells were rolled out by your own two hands.
Prepare Vegetarian/Vegan 
Even though turkey is sometimes placed on sale just prior to Thanksgiving, a turkey large enough to feed a good sized crowd can still cost quite a bit. Rather than serving traditional turkey consider having a completely vegetarian meal this year. By not having the turkey you can avoid preparing some of the other more expensive side dishes you expect to see with turkey.
Maybe you don't know anything about preparing a vegetarian Thanksgiving meal. Now's the perfect time to do some research and find some recipes which sound good to you. Rice pilaf with mushrooms and nuts can make a delicious alternative to meat. You can also have several types of salads, other side dishes and even vegetarian desserts.
Frugal Decorations 
You can save money on more things associated with Thanksgiving than merely the food. Think about bringing nature indoors as you decorate your home for the day. Use rich jewel tones for the tables. Spread clean autumn leaves across the table and then cover it with a plastic cover to keep the tablecloth dirt free. Add a bowl of fall fruit to the center of the table. Decorative pumpkins can also be used to decorate your home.
What about a wreath for the front door? Find pine boughs or grapevine in your yard to create the wreath rather than purchasing a fake one. You can then use other things from nature to decorate it. Pinecones, sumac berries, feathers and acorns are a few of the items you can hot glue to a wreath to decorate it. Don't forget a big bow made from autumn colors.
Use beeswax or other candles in groups on a mirror for a table decoration. Scatter acorns, leaves or smooth river rocks on the mirror. When you light the candles the flames will reflect off the mirror and cast interesting light across the walls.
Think of other ways you can decorate your home in keeping with autumn. Perhaps you can place a real cornucopia filled with fruit on a table. Place a full-size pumpkin and several smaller pumpkins on the porch leading to the front door. Use your imagination. Look around your home and you'll probably find several items you can bring in from the outdoors to decorate with.
---
There are many ways to have a frugal Thanksgiving celebration. Hopefully you've taken a look at these ideas and found some that will work for your family. By planning ahead you'll have more time to spend time with your loved ones. Make some memories and Happy Thanksgiving!