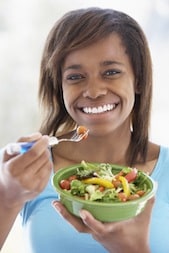 High school cafeterias are notorious for offering foods that are less than healthy. If your teen is getting sick of hamburgers and pizza for lunch during the week, they may be considering brown bagging it. Here are five healthy lunch box tips your teens may want to incorporate into their bagged lunches.
1. Encourage your teen to pack foods from at least three food groups. This could mean sandwiches, some carrot sticks, and piece of fruit. It could also mean taking leftovers from the night before, a salad, and fruit at the bottom yogurt. The key is to consider what your teen likes to eat and then purchase things you know they'll like and that are healthy choices. If they pack a healthy lunch they are more likely to have the energy and mental clarity for the remainder of the school day. If they eat cafeteria food, or worse yet – get something from the candy machine, they may have an energy crash from sugar overload.
2. Ask your teen to go with you to choose the food they'd like to include in their lunches. Then, when you've returned home, suggest to your teen that they may want to begin preparing their meals for the week. They can place some items in paper bags in the fridge so they can finish filling them the night before school. This way the bagged lunches are ready for them to grab and go.
3. Instead of placing everything in zip top bags, you might suggest that your teen place some foods into small plastic containers. This will help keep those foods fresher as well as contain any liquids that may be part of the meal. One great meal idea for small plastic containers is to chop up left over chicken breasts, add chopped grapes and a little bit of mayonnaise to create a wonderful chicken salad to make any teen jealous.
4. Rather than making traditional sandwiches, your teen can create wraps instead. Use tortilla shells and spread a little bit of cream cheese on it. Cover it with shredded cheese, chopped chicken and shredded carrots. You have a fresh take on a sandwich. They may actually find they prefer the roll-ups instead of sandwiches made with bread.
5. Don't forget to include fish for your teen's healthy lunch. They can make a tuna salad sandwich on whole wheat bread or can add the tuna to a tossed salad. Either way they choose to eat them, tuna is a good choice for a healthy lunch.
School lunches don't have to be boring to be healthy. In fact, your teen can pick and choose healthy alternatives to what is offered in the school cafeteria and make them at home. Maybe they won't eat a healthy lunch box meal every day of the week, but replacing cafeteria food with a healthy meal from home can do wonders for their health, how well they concentrate in afternoon classes, and the amount of energy they have left when they return home.