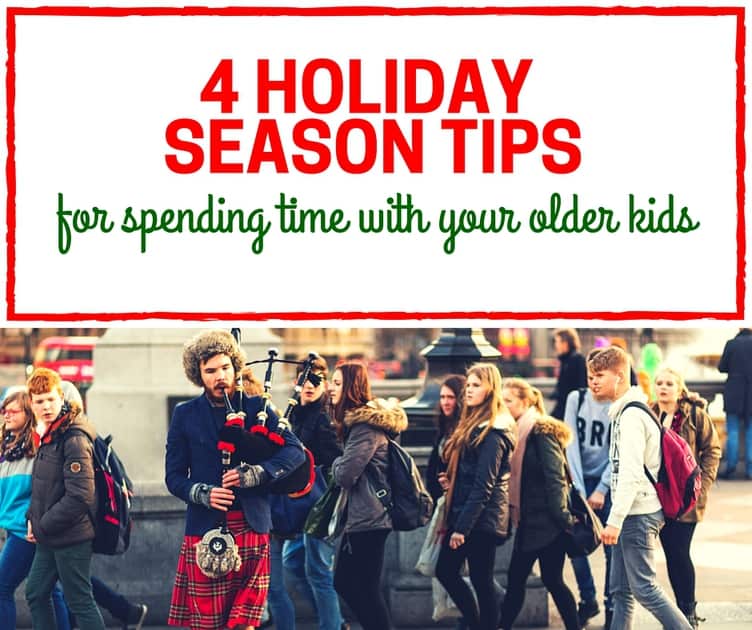 As parents, it's often hard enough to figure out how to spend quality time with your tween or teen in general, much less during the holiday season. The holidays present a distinct challenge for families, and with blended families becoming more common, the challenges are different than ever before. Also, kids this age may find the holidays depressing and difficult, because they are leaving the magic of childhood holidays behind. It can be tough.
During this busy and sometimes emotional time of year, tweens and teens are sometimes torn between spending time with their friends and being with their families. Both types of relationships are important, but how can you find a balance?
Here are some tips for spending time with your tweens and teens this holiday season.
1. Host a Holiday Party
Hosting a holiday party for your kids' friends can be a great way to spend some time with them. Of course, most kids this age don't want you hanging out with them during the entire party, but the planning and decorating is something you and your kids can do together.
The quality time you spend with your tween or teen may not actually happen at the party, but there are plenty of opportunities surrounding the event for you to spend time together. You can plan a menu, grocery shop, decorate, buy or make favors, and plan activities together.
2. Family Getaway
A holiday getaway – especially if it's to a cabin or ski lodge where there's no cell phone reception – may be just the thing to connect with your budding young adults. Now that they are not really "into" Santa Claus and magical holiday secrets, an annual ski trip, snowboarding adventure, or fall foliage tour can be new traditions that foster family closeness.
Related: Outdoor Winter Activities for the Whole Family
3. Start New Traditions
As noted above, starting new traditions helps bring families together. Now you will need to shift to age-appropriate traditions, like the ski trip mentioned above or volunteering at a local homeless shelter. Other traditions might include delivering Christmas cards to nursing home residents, or holiday caroling around the neighborhood with a local group or church. These types of traditions help tweens and teens get the focus off of themselves for a while, too.
4. Participation
Now that your kids are old enough to participate in some more adult roles, see if you can get them to pitch in on a level that they will appreciate. For example, let your tween or teen pick out Halloween candy and give it out at the door, or encourage them to cook a special new dish for Thanksgiving or Chanukah.