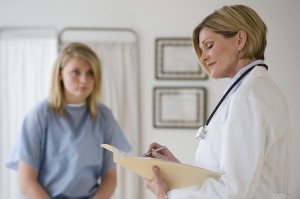 Researchers at the National Institute of Mental Health have reported on the prevalence data on a broad range of mental disorders in a nationally representative sample of U.S. adolescents, which show that approximately one in five children in the U.S. meet the criteria for a mental disorder severe enough to disrupt their daily lives.
Merikangas and colleagues paper "Lifetime Prevalence of Mental Disorders in U.S. Adolescents : Results from the National Comorbidity Study-Adolescent Supplement (NCS-A)" appears in the October 2010 issue of the Journal of the American Academy of Child and Adolescent Psychiatry (JAACAP).
The NCS-A is a nationally representative, face-to-face survey of 10,123 adolescents aged 13 to 18 years in the continental United States. Diagnostic assessment of DSM-IV mental disorders were measured using a modified version of the World Health Organization (WHO) Composite International Diagnostic Interview.
The researchers found that anxiety disorders were the most common condition (31.9%),followed by behavior disorders (19.1%), mood disorders (14.3%), and substance use disorders (11.4%), with approximately 40% of participants with one class of disorder also meeting criteria for another class of lifetime disorder.
The prevalence of disorders with severe impairment and/or distress, marked by interference with daily life was over one in five children, or 22.2%.
The authors conclude that not enough public health resources are being allocated to address the mental health needs of adolescents. They report "Prospective research is now needed to understand the risk factors for mental disorder onset in adolescence, as well as the predictors of the continuity of these disorders into adulthood."
When parents notice a change in behavior in their child or teen, they should be sure to talk with their child's physician so they can asses to determine if it is related to a physical problem, psychological disorder or just part of normal child development.
Additional Resources
Journal References:
Kathleen Ries Merikangas, Jian-ping He, Marcy Burstein, Sonja A. Swanson, Shelli Avenevoli, Lihong Cui, Corina Benjet, Katholiki Georgiades, Joel Swendsen. Lifetime Prevalence of Mental Disorders in U.S. Adolescents: Results from the National Comorbidity Survey Replication–Adolescent Supplement (NCS-A). Journal of the American Academy of Child & Adolescent Psychiatry, 2010; 49 (10): 980-989
Kathleen R. Merikangas, Shelli Avenevoli, E. Jane Costello, Doreen Koretz, Ronald C. Kessler. National Comorbidity Survey Replication Adolescent Supplement (NCS-A): I. Background and Measures. Journal of the American Academy of Child & Adolescent Psychiatry, 2009; 48 (4): 367-379