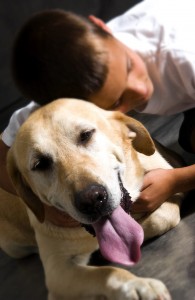 A new study by researchers at the Universite of Montreal published in the journal Psychoneuroendocrinology reveals that Autistic children who are exposed to the presence of a therapy dog have reduced stress levels.
"Our findings showed that the dogs had a clear impact on the children's stress hormone levels," says Sonia Lupien, senior researcher and a professor at the Université de Montréal Department of Psychiatry and Director of the Centre for Studies on Human Stress at Louis-H. Lafontaine Hospital, "I have not seen such a dramatic effect before."
To measure stress, researchers looked at Cortisol levels in the children. Cortisol is a hormone that is produced by the body in response to stress. It peaks half-hour after waking up, known as the cortisol awakening response (CAR) and decreases throughout the day. Moreover, it is detectable in the saliva, which makes sampling its levels easy.
The researchers measured the CAR of 42 children with ASD. Parents were asked to complete a questionnaire addressing the behaviors of their children before, during and after the introduction of the dog. On average, parents counted 33 problematic behaviors prior to living with the dog, and only 25 while living with the animal. Before the introduction of service dogs, we measured a 58% increase in morning cortisol after awakening, which diminished to 10% when service dogs were present. The increase in morning cortisol jumped back to 48% once the dogs were removed from the families (p<0.05).
These findings show that the use of therapy dogs for autistic children may be an effective way to decrease their anxiety and behavioral issues.
Additional Resources:
1.Robert Viau, Geneviève Arsenault-Lapierre, Stéphanie Fecteau, Noël Champagne, Claire-Dominique Walker, Sonia Lupien. Effect of service dogs on salivary cortisol secretion in autistic children. Psychoneuroendocrinology, 2010; 35 (8): 1187 DOI: 10.1016/j.psyneuen.2010.02.004