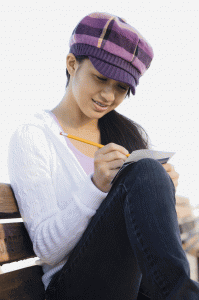 Writing/journaling is a fun activity students participate in every day in school. This can be extended to include a fun summer idea for kids as well.
Kids love having a nice book with a cover in their favorite color. It gives them a sense of privacy, self-worth, and identification. While on summer vacation, writing in a journal about their trip to the beach, or the museum they visited, or family trips is one way in which they can utilize the book and continue their writing skills.
It is also an outlet for any frustration they may have and it channels it in a positive way. In fact, some kids may have pen pals and write to each other all summer. Kids like to have their own private things; a journal is one of them. It not only reinforces their creativity, but increases their vocabulary and sentence usage. If you are planning a trip by car, they can take the journal along and write about the places they've been and the people they've met along the way. They can also use the journal to post thoughts on books they've read. For a kid, a journal is the vehicle wherein they can express their thoughts, ideas and feelings.
Writing and language are directly related. By using a journal, they not only improve their speech, but their reading as well. They are using their creativity without having to worry about being graded. It's their journal to write whatever they choose, and this is a fun way for them to create something that is theirs alone.
Writing/journaling as a fun summer idea for kids should be reinforced. Perhaps you have been keeping a journal. Share some of your stories with your kids, and in this way they too will want to begin their own type of journal and add as an activity every summer. Who knows, there may be a potential writer in your family.