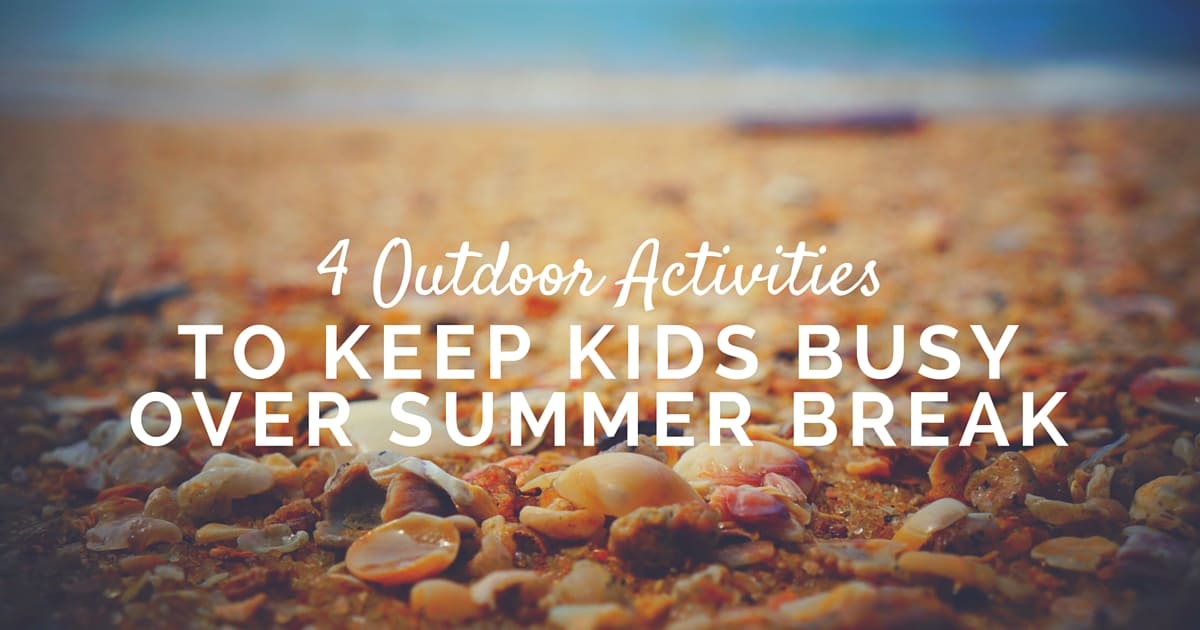 Summer is coming up, which means your kids are going to be off school. This can be a blessing since you get to spend more time with them, but before too long, you hear the inevitable "I'm bored" from their lips. These outdoor activities will keep them busy during summer break, but also out of the house.
Create an Obstacle Course
You can start by making a fun obstacle course in your backyard. This is a lot of fun whether it is just for your kids, you want to have the neighborhood kids over, for a sleepover, birthday party, or an event where families will be in your backyard. It can be as small or large as you want, which is another big benefit of it. Start by setting the 'Start' and 'Stop' point, then have obstacles to go through along the way. This can be anything from setting up hula hoops the kids have to run through to simple obstacles like using a ladder walk on the ground or jumping over larger items in the yard. Set a clear path so the kids know what to do next.
Find Seashells and Make Crafts
Are you planning on going to the beach during the summer? If so, make it a point to collect different types of seashells every time you go. Save them in a big jar, then bring them all out at the end of summer. You can now use all of these seashells for fun crafts. Make sure you rinse and dry them thoroughly to get rid of all the sand. Then decide how to craft with them. They can be painted, glued to a picture frame, or used to decorate a bedroom door sign. You can string them or simply place them in a bowl with some votive candles for a neat patio decoration.
Make Art On the Lawn
If your kids love art projects, but you don't want to make a mess indoors or stain your patio, why not use the lawn? All you need is an old sheet in a solid color and some paint and other art supplies. Lay out the sheet on the lawn, making sure it isn't too close to the patio or a fence. Give your kids their art supplies and let them go to town! You don't have to worry too much about the lawn being ruined if they go off the edge of the sheet, and they have a lot of space to work with.
Create a Nature Scavenger Hunt
This is something that has a lot of versatility. The scavenger hunt can be in your own backyard, at a nearby park or hiking trail, or be something the neighborhood kids do down the street. All you need to do is make a list of things kids can find out in nature and mark off their scavenger hunt list. It doesn't have to be things they actually collect, since things like butterflies shouldn't be captured. Here is a list of some options for your nature scavenger hunt:
Take a picture of a butterfly
Find a fun-shaped cloud
Grab a handful of grass
Look for a pink flower
Find water
See a lizard walk across the ground
Keep an eye out for spiky things
Touch a rock
Pick up a pinecone
When thinking of outdoor activities, consider ones that don't cost a lot of money and don't require your kids to go too far from home.
[hr]
Fifteen Minutes Outside: 365 Ways to Get Out of the House and Connect with Your Kids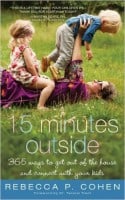 What if you got outside every day, and what if you could get your kids to come along? It sounds modest, but the effects, as dynamic outdoor spokesperson Rebecca Cohen herself can testify, are profound. This inspiring collection of activities gives families an idea for every day of the year, requiring little planning, no expertise and relatively little resources (time, cash, or patience!), no matter where they live. Simple and inspiring, this book is bursting with hundreds of easy ways to get your family out into nature a little bit every day.