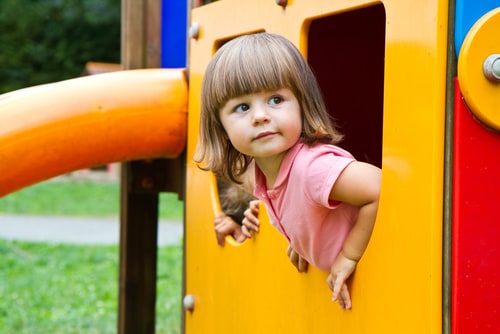 Summer is full of family time. The kids are out of school and the parks are open. So, why not have a day of fun on the playground with your kids?
When was the last time you were on a playground? If it was when you were in elementary school you are long overdue. Most parents just sit and watch their kids climb on the jungle gym or swing in the swing. It can get boring after a while and for most parents it does.
You can turn that boredom on its ear by participating. Watch your kid's eyes light up when mom and dad come to play with them and not just to watch. Not only will your kids be more active in their play but they will gain confidence from watching you.
Here are some tips to have fun with your kids:
Dress appropriately – If you are going to be running in the sawdust or climbing on things, you'll want to look your worst. This is a complement. Wear sneakers with a good grip and socks to keep the sawdust out of your shoes. For your kids as well, if they are going to play, leave the sandals at home in favor of some good tennis shoes.
Bring plenty to drink – Kids can get dehydrated fast through sweating on the playground. You may not have paid much attention to this before but once you start playing with them, you'll notice how hot it is. Replenishing those fluids will keep them playing and also safe from heat stroke and heat exhaustion. Fill a few water bottles and keep them in the freezer. Pull them out about half an hour before you head to the park. As you play, the ice will melt and you'll have cool refreshing water to enjoy.
Show them how it's done – Many kids don't do much play when they go to the playground because they aren't sure how to do it. Climbing the steps of the slide can be daunting for a young child. Help them along by going first or going right behind them. Assure them that it is safe and that they will have fun. The first couple of times down the slide, snuggle behind them and slide down together.
Bring a jump rope – Not all of the fun has to be on the equipment. Find some smooth ground in the dirt and show them how to jump rope. If it is just you and your child, you can show them how to jump and hold one end of the rope at the same time. This is great for the heart and lungs and you'll have a lot of fun.
A day at the playground doesn't have to be boring. Both you and your kids will have more fun and work up a sweat if you play together.