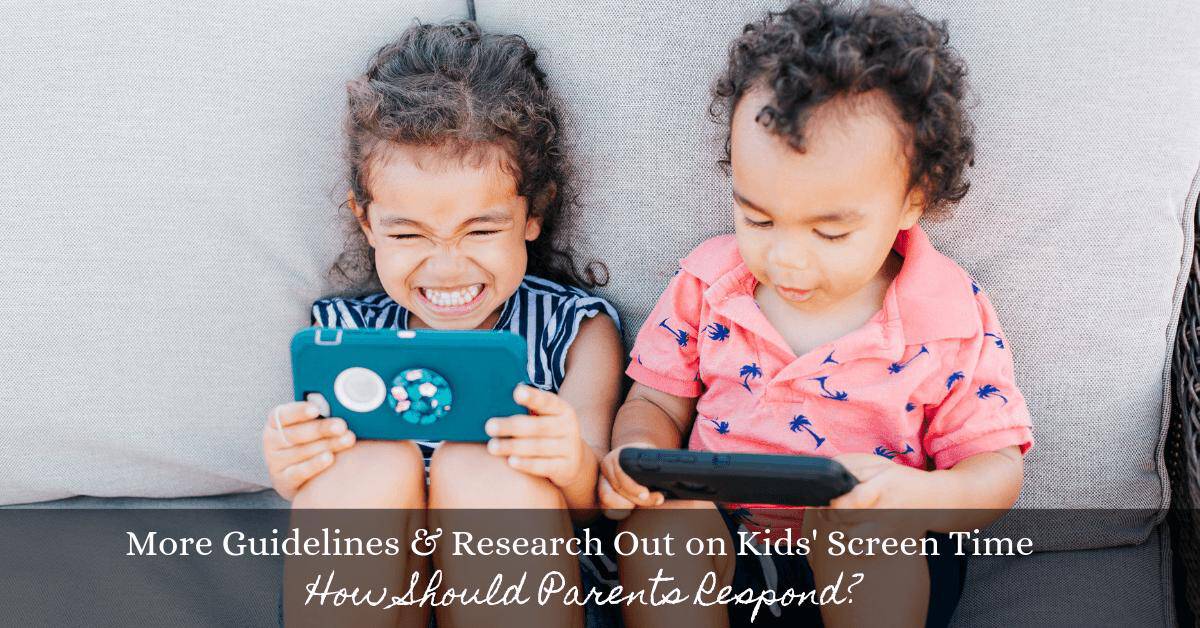 On Wednesday, the World Health Organization released new guidelines recommending no screen time at all for children under 2 and no more than one hour for children between the ages of two and four. These are similar to recommendations published by the American Academy of Pediatrics (AAP) in 2016 for that age group.
For older children, the AAP guidelines recommend the use of their Family Media Plan, which calls for limiting screen time while encouraging an increase in healthy behaviors to replace it. These positive activities include improved sleep, more physical activity, engaging in creative play, wholesome eating and parent-child emotional connection (Children and Adolescents & Digital Media, Pediatrics, 2016). "Screen time" includes watching TV, movies, playing video games, and using computers, phones, and tablets.
The above guidelines receive continuing support from research conducted around the world.
In a new study, the Washington University School of Medicine looked at survey data from 52,000 children, adolescents, and adults. Their research revealed that adults now spend 6.5 hours per day sitting and teens spend 8 full hours per day sitting. They discovered a direct connection to screen time with 65 percent of adults, 59 percent of teens, and 62 percent of kids spending a minimum of two hours per day using their digital devices. Other studies (including one recently published by the U.S. National Library of Medicine and another classic study published by the Kaiser Family Foundation) found that American children spend seven to eight hours per day glued to their screens.
Lack of physical activity prompted the American Heart Association to issue a scientific statement urging parents to reduce kids' screen time, saying it will increase the odds they will become overweight or obese (Circulation, 2018). Similarly, the University of Montreal found that increased BMI in children was associated with excessive access to TV (Pediatric Research, 2018).
Several new articles written around the world warn that preschoolers are not getting enough outdoor play. These articles include one published by the University of Western Australia and another written by faculty members at the University of Hong Kong as well as the University of Auckland. The lack of outdoor play was associated with health issues due to lack of physical activity as well as a lack of connection with nature, which can result in better moods and behavior, less stress, and stronger social skills.
The authors of the above studies point out that some living situations don't provide easy access to outdoor play areas such as a backyard. One suggestion is for parents to take children to a park or public playground frequently and to encourage participation in after-school sports programs.
Finally, studies show that the use of screen time has been linked to learning difficulties. Researchers at the University of Alberta and the University of Iowa have found that the use of digital devices beyond the time recommended by age group, particularly during the preschool years, can result in poor concentration and attention span. Other research, including two recent articles published in the Journal of Reading Research and Pediatrics, found that reading traditional books (printed on paper) resulted in better comprehension than books read on a digital device.
All of the experts recognize that the use of digital devices by children and adults in moderation is not harmful and have a place in our lives. However, they all agree that reducing the amount of screen time to published recommendations for children and only a few hours outside of work for adults leads to improved physical and mental health as well as stronger social connections, including enhanced intellectual and creative development.
While cutting down on screen time makes sense given what we know about the harmful effects of overuse, the second and critical step is to look for a variety of beneficial activities to fill the void created from disconnecting from our screens.
Recommendations include more time spent in physical activity, getting outdoors, spending time socializing with our friends and family, engaging in creative activities, going to bed earlier, spending time chilling, reading books, and playing.
Here are a few suggestions on what you and your family might try:
Make family meals a screen-free time and focus on connecting and communicating with each other as well as considering working together to prepare healthy meals.
Spend some time with your children reading together and discussing what you're reading.
Do something fun together such as playing games, listening to music, singing or dancing.
Spend time on the weekends doing fun activities outdoors.
Encourage your children to engage in a sport or take lessons in swimming, martial arts or yoga.
Get a family gym membership and go regularly.
Set up an evening routine that includes regular bedtime.
Establish family rules for screen use. Designate a screen-free zone. Know what your kids are doing during screen time, including what they're watching and what games they're playing. Teach the safe use of social networking apps. Take advantage of built-in parental controls for phones, tablets, computers, and televisions. Get a docking station and insist that all digital devices remain there except during allotted times for their use.
These are a few quick tips. For more, check out my new book, The Well-Balanced Family: Decrease Screen Time and Increase Family Fun, Fitness, and Connectedness.