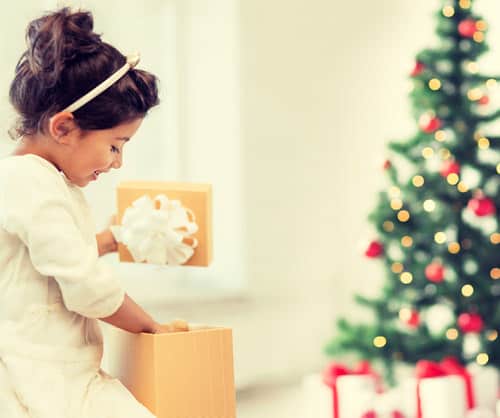 The holidays seem to "belong" to young children. So many social customs and family traditions revolve around children and the magic of the season. Still, in this day and age, the holidays can get very busy. Driving to visit family members, hosting out-of-town visitors, and covering all the familial bases can result in children doing a lot of running.
How can you find some quality time to spend with your young children amid all the busy-ness of the holidays? Here are some tips.
1. Include Them
This can be a challenge for parents. We just want to get the gift wrapping done and the food cooked, and we'd rather have the kids out of the way. But if you're looking for ways to spend quality time with them, then all those necessary tasks are a good place to look for ways to incorporate your kids.
How about letting them make the wrapping paper? Roll out a long sheet of paper or large pieces from a drawing pad, and let your kids draw whatever they like. They can also dip their hands in finger paint and make colorful prints. Relatives love gifts wrapped in this kind of paper!
Young children can also be included in decorating and food preparation. Try to shift your focus from having everything look perfect to spending that quality time with your kids.
2. Make Decorations
Get together with your kids and set aside some time to hand-make decorations. You can make inedible dough ornaments, paper chains, swags, wreaths, paper snowflakes, and other decorations with your kids. Children especially love lights at holiday time – let them help you string them and arrange them inside and out. They can also shop with you for Halloween candy, and make a centerpiece for Thanksgiving.
3. Start a Fun Tradition
Do you have a favorite holiday tradition you remember as a child? Maybe things were different then, but you can still resurrect some of those old traditions, or start a new one. Children don't necessarily need an elaborate, time-consuming activity; many times, the memory is what counts and simple activities can build lovely memories. For example, spend a morning making holiday cookies and give some to local shut-ins or nursing home residents. Go looking for fresh greens to cut and weave wreaths together each year.
If you are religious, see what kinds of traditions you can adopt from your faith – advent candles and calendars, Chanukah dreidel games, moon and stargazing for Ramadan, and so forth. Many religions have ancient traditions that you can draw from and modernize.
Related: Tips for Spending Time with Your Tweens and Teens This Holiday Season
4. Do Something as a Family
You can go caroling, visit shut-ins, volunteer at a homeless shelter, participate in a toy drive, or go on a fall foliage or holiday lights tour as a family. Include your young children in these activities, and teach them something about their community and the needs of others, all while getting to spend quality time with them.