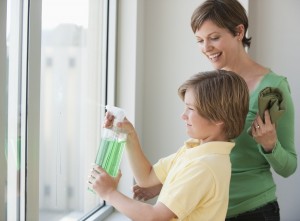 Raise your hand if you want to clean? No hands were raised. When you ask your kids they won't raise their hands either. But, if you offer some type of reward in exchange for their services, you might get a few more takers.
Chores are a rite of passage. Kids learn how to clean and take care of themselves when they do chores. Also, parents get some well-deserved time off.
Here are a few ways that you can entice your kids to tidy up their rooms and the rest of the house where they dwell without all the hemming and hawing that you usually encounter. Having a chore chart will make it easy to keep track of who did what and when each week. Try using a dry erase board.
1. Offer them computer time. Most homes can't afford to have a computer for every occupant. Unless the kids are doing homework, their computer time is limited. Each day of completed chores equals free time on the computer. Let's say that they receive 30 minutes of use each day. This time can be redeemed on a day of the week designated as their computer day.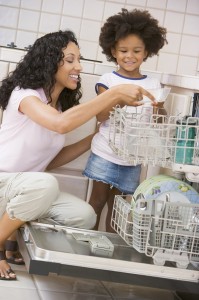 2. Where do your kids like to go on the weekend? If you have a kid who likes arcade games, offer them a day at the arcade complete with tokens for a week of completed cleaning chores. If your daughter wants to get pampered, offer her a pedicure or manicure at the salon.
3. "Get out of cleaning for free" cards can also be an incentive for cleaning satisfactorily each week. This can be used for one day without cleaning during the following week. Kids can choose this instead of a special outing.
4. Cash is always a great incentive for cleaning. If they wish to receive cash, then they have to pick from a cleaning grab bag. In here are different cleaning assignments that have a dollar amount listed on them. It could be anything from cleaning the toilet to mopping the kitchen floor. When completed to your satisfaction, they will then earn their money to be paid out according to your schedule. If you pay them on a monthly basis, they will learn to save money.
5. Two or more kids in the family?  Make it a competition.  Who can clean up the most?  Who can clean up their part of the room the fastest?  Who can win the prize for the best job?
6. Toddlers or Preschoolers?  Make up a "clean-up time" song and sing it when things need to be cleaned up.  Give a hug and praise for doing a good job.
Sometimes kids need incentives to help with the tidying up around the house. These are few suggestions you can use to get going. Tweak them as you like to make it work for you.  For more parenting tips see Making Tidying Fun.
Suggested Reading: Mom, Can I Help Around the House? A Simple Step-by-step System for Teaching Your Children Life-long Skills for Pitching in