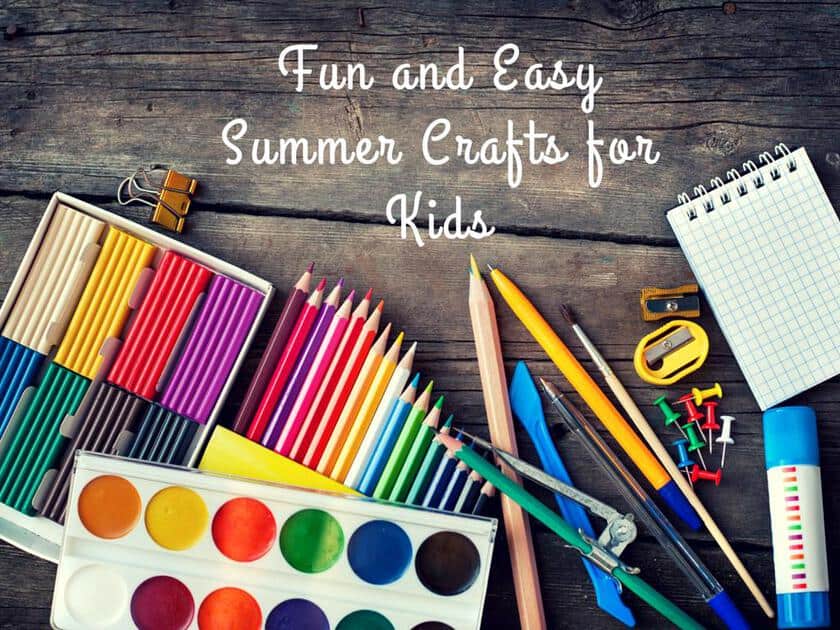 Children deserve a break from school during the summer months, but relaxation can quickly turn to boredom if you don't find creative ways to keep them entertained. Fortunately, there are plenty of exciting projects to help them stay busy all summer long! Here are some fun and easy summer crafts for kids.
Melted crayon art
If you can't beat the heat, you might as well use it to your advantage. For this project, you'll need a canvas, some old crayons and a very hot day. Let your kids break the crayons into small chunks and peel off the wrappers. Help them arrange the pieces on the canvas so that you'll get a nice mix of colors in the design. Put everything outside on a flat surface and in about an hour or so, you'll have a masterpiece that's ready to hang in an art museum (or at least on the wall of your child's bedroom).
Ice cube art
Maybe you're looking for a craft to keep your children cool. Here's one that will fit the bill nicely. Put a couple drops of washable paint into each compartment of an ice cube tray. Add in some cold water and stir everything together. Freeze the water and pop the cubes out of the tray when they are ready. Now your kids are ready for some chilly painting! They can rub cubes of different colors on an old sheet or patch of cloth. As the ice melts, swirls of color will stain the fabric and form a beautiful, unique pattern. Hang the material on a clothesline to dry in the summer sun and you can use it as a backdrop for a puppet show later.
Flower Petal Butterflies
There are lots of gorgeous flowers that bloom in the summertime. Allow your kids to pick a few varying in color and remove the petals from each one. Then, gather up some sheets of construction paper and some glue. Children can glue flower stems to the paper to make butterfly bodies and place the petals around the stems for the wings. When they're done, flutter the finished butterflies up to your refrigerator door where everyone in the family can admire the colorful creations
Juice Box Boats
If you're like most parents, you probably go through dozens of juice boxes each week.  Recycle some of those tiny cartons with this simple idea. To begin, place a juice box flat on a table. Punch a hole into the top and slide in a straw for the mast. Next, let each child use kid-safe scissors to cut a triangle out of some construction paper. This triangle will act as the sail. Kids can draw nautical shapes or other cute designs to customize the project. Finally, glue the triangle to the straw and you have a juice box boat that's ready for its maiden voyage. Little ones will have a ball sailing these miniature ships in the bathtub or kiddie pool.
Paper bag jellyfish
Even if you can't hit the beach this year, you can still bring home a bit of seaside fun!  Simply pick up a few paper bags in assorted colors from your local craft store. Next, show your kids how to cut long strips along the bottom of each bag to form flowing tentacles. They can complete the craft by gluing on buttons for the eyes and drawing silly facial features. You could even hang the finished jellyfish up as decorations for a beach-themed party.
School is out for the summer; your kids will love trying some creative projects. With these fun and easy craft ideas, you'll never have to worry about hearing "I'm bored."  Grab your supplies and let your little ones get crafty this summer!