Building Confidence and Resilience
These two books help parents develop a healthy bond and trusting relationship with children and teens that promotes self-confidence and builds resilience.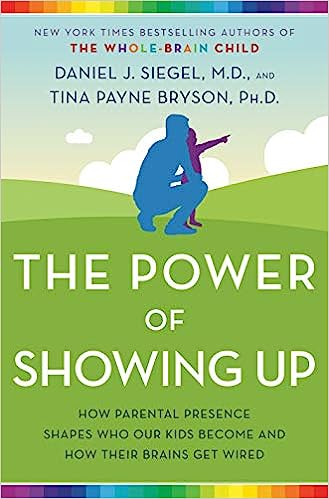 One of the very best scientific predictors for how any child turns out—in terms of happiness, academic success, leadership skills, and meaningful relationships—is whether at least one adult in their life has consistently shown up for them. In an age of scheduling demands and digital distractions, showing up for your child might sound like a tall order. But as bestselling authors Daniel Siegel and Tina Payne Bryson reassuringly explain, it doesn't take a lot of time, energy, or money. Instead, showing up means offering a quality of presence. And it's simple to provide once you understand the four building blocks of a child's healthy development. Every child needs to feel what Siegel and Bryson call the Four S's:

* Safe: We can't always insulate a child from injury or avoid doing something that leads to hurt feelings. But when we give a child a sense of safe harbor, she will be able to take the needed risks for growth and change.
* Seen: Truly seeing a child means we pay attention to his emotions—both positive and negative—and strive to attune to what's happening in his mind beneath his behavior.
* Soothed: Soothing isn't about providing a life of ease; it's about teaching your child how to cope when life gets hard, and showing him that you'll be there with him along the way. A soothed child knows that he'll never have to suffer alone.
* Secure: When a child knows she can count on you, time and again, to show up—when you reliably provide safety, focus on seeing her, and soothe her in times of need, she will trust in a feeling of secure attachment. And thrive!

Based on the latest brain and attachment research, The Power of Showing Up shares stories, scripts, simple strategies, illustrations, and tips for honoring the Four S's effectively in all kinds of situations—when our kids are struggling or when they are enjoying success; when we are consoling, disciplining, or arguing with them; and even when we are apologizing for the times we don't show up for them. Demonstrating that mistakes and missteps are repairable and that it's never too late to mend broken trust, this book is a powerful guide to cultivating your child's healthy emotional landscape.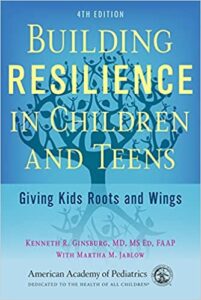 Help prepare the children and teens in your life to face life's challenges with grace and grit. In this award-winning guide author and pediatrician Dr. Ken Ginsburg shares his 7 crucial Cs: competence, confidence, connection, character, contribution, coping, and control.


You'll discover how to incorporate these concepts into your parenting style and communication strategies, thereby strengthening your connection. And that connection will position you to guide your child to bounce back from life's challenges and forge a meaningful and successful life. You'll also learn detailed coping strategies to help children and teenagers deal with the stresses of academic pressure, media messages, peer pressure, and family tension.


These approaches will prepare children to thrive and make it less likely that they will turn to risky quick fixes and haphazard solutions. Resilience is a critical life skill. And it can be taught! Learn how with Building Resilience in Children and Teens.



We recommend that you read the age appropriate book with your child or teen and discuss the content and how they could start using the suggestions in their lives.  You may spend several weeks on each chapter, reviewing their progress and providing coaching as needed.
We suggest you read and discuss one chapter at a time at a family meeting.  Again, review progress in implementing the suggestions as a family.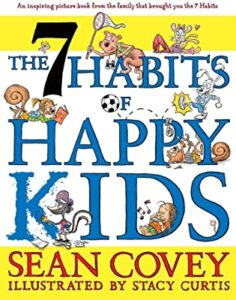 In The 7 Habits of Happy Kids, Sean Covey uses beautifully illustrated stories to bring his family's successful philosophy to the youngest child.

For the Seven Oaks friends, there is always something to do. Whether they're singing along with Pokey Porcupine's harmonica or playing soccer with Jumper Rabbit, everyone is having fun and learning all sorts of things. These seven stories show how practicing the 7 Habits makes this possible for the whole Seven Oaks Community.

From learning how to take charge of their own lives to discovering how balance is best, the Seven Oaks friends have tons of adventures and find out how each and every kid can be a happy kid!



Adapted from the New York Times bestseller The 7 Habits of Highly Effective People, The 7 Habits of Highly Effective Teens is the ultimate teenage success guide—now updated for the digital age.

Imagine you had a roadmap—a step-by-step guide to help you get from where you are now, to where you want to be in the future. Your goals, your dreams, your plans…they're all within reach. You just need the tools to help you get there.

That's what Sean Covey's landmark book, The 7 Habits of Highly Effective Teens, has been to millions of teens: a handbook to self-esteem and success. Now updated for the digital age, this classic book applies the timeless principles of 7 Habits to the tough issues and life-changing decisions teens face. Covey provides a simple approach to help teens improve self-image, build friendships, resist peer pressure, achieve their goals, and appreciate their parents, as well as tackle the new challenges of our time, like cyberbullying and social media. In addition, this book is stuffed with cartoons, clever ideas, great quotes, and incredible stories about real teens from all over the world.

Endorsed by high-achievers such as former 49ers quarterback Steve Young and 28-time Olympic medalist Michael Phelps, The 7 Habits of Highly Effective Teens has become the last word on surviving and thriving as a teen.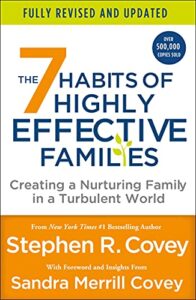 The 7 Habits of Highly Effective Families is Stephen R. Covey's newly revised and updated paperback edition of the New York Times bestseller that offers precious lessons in creating and sustaining a strong family culture in a turbulent world.

In his first major work since The 7 Habits of Highly Effective People, Covey presents a practical and philosophical guide to solving the problems--large and small, mundane and extraordinary--that confront all families and strong communities. By offering revealing anecdotes about ordinary people as well as helpful suggestions about changing everyday behavior, The 7 Habits of Highly Effective Families shows how and why to have family meetings, the importance of keeping promises, how to balance individual and family needs, and how to move from dependence to interdependence. The 7 Habits of Highly Effective Families is an invaluable guidebook to the welfare of families everywhere.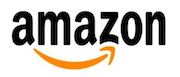 As an Amazon Associate we earn from qualifying purchases.