These books provide guidance and practical tips on parenting children and teens successfully.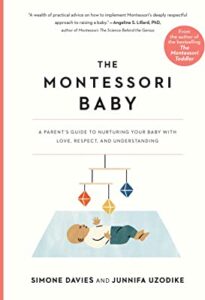 It's time to change the way we see babies. Drawing on principles developed by the educator Dr Maria Montessori, The Montessori Baby shows how to raise your baby from birth to age one with love, respect, insight, and a surprising sense of calm.

Cowritten by Simone Davies, author of the bestselling The Montessori Toddler, and Junnifa Uzodike, it's a book filled with hundreds of practical ideas for understanding what is actually happening with your baby, and how you can mindfully assist in their learning and development. Including how to:

*Prepare yourself for parenthood–physically, emotionally, intellectually, and spiritually.
*Become an active observer to understand what your baby is really telling you.
*Create Montessori spaces in your home, including "yes" spaces where nothing is off-limits.
*Set up activities that encourage baby's movement and language development at their own pace.
*Raise a secure baby who's ready to explore the world with confidence.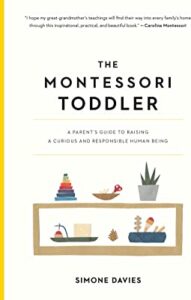 t's time to change the way we see toddlers. Using the principles developed by the educator Dr. Maria Montessori, Simone Davies shows how to turn life with a "terrible two" into a mutually rich and rewarding time of curiosity, learning, respect, and discovery.

With hundreds of practical ideas for every aspect of living with a toddler, here are five principles for feeding your child's natural curiosity, from "Trust in the child" to "Fostering a sense of wonder." Step-by-step ways to cultivate daily routines with ease, like brushing teeth, toilet-training, dealing with siblings, losing the pacifier. Plus learn how to: Stay composed when your toddler is not and set limits with love and respect—without resorting to bribes or punishment.

*Set up your home and get rid of the chaos.
*Create Montessori activities that are just right for your one-to-three-year-old.
*Raise an inquisitive learner who loves exploring the world around them.
*See the world through your toddler's eyes and be surprised and delighted by their perspective.
*Be your child's guide—and truly celebrate every stage.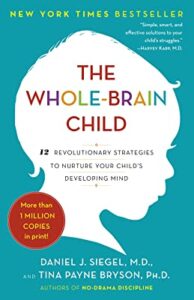 In this pioneering, practical book, Daniel J. Siegel, neuropsychiatrist and author of the bestselling Mindsight, and parenting expert Tina Payne Bryson offer a revolutionary approach to child rearing with twelve key strategies that foster healthy brain development, leading to calmer, happier children.


The authors explain—and make accessible—the new science of how a child's brain is wired and how it matures. The "upstairs brain," which makes decisions and balances emotions, is under construction until the mid-twenties. And especially in young children, the right brain and its emotions tend to rule over the logic of the left brain. No wonder kids throw tantrums, fight, or sulk in silence.


By applying these discoveries to everyday parenting, you can turn any outburst, argument, or fear into a chance to integrate your child's brain and foster vital growth. Complete with age-appropriate strategies for dealing with day-to-day struggles and illustrations that will help you explain these concepts to your child, The Whole-Brain Child shows you how to cultivate healthy emotional and intellectual development so that your children can lead balanced, meaningful, and connected lives.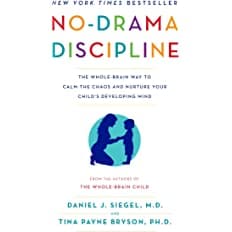 Highlighting the fascinating link between a child's neurological development and the way a parent reacts to misbehavior, No-Drama Discipline provides an effective, compassionate road map for dealing with tantrums, tensions, and tears—without causing a scene.

Defining the true meaning of the "d" word (to instruct, not to shout or reprimand), the authors explain how to reach your child, redirect emotions, and turn a meltdown into an opportunity for growth. By doing so, the cycle of negative behavior (and punishment) is essentially brought to a halt, as problem solving becomes a win/win situation. Inside this sanity-saving guide you'll discover.

*Strategies that help parents identify their own discipline philosophy—and master the best methods to communicate the lessons they are trying to impart.
*Facts on child brain development—and what kind of discipline is most appropriate and constructive at all ages and stages.
*The way to calmly and lovingly connect with a child—no matter how extreme the behavior—while still setting clear and consistent limits.
*Tips for navigating your child through a tantrum to achieve insight, empathy, and repair.
*Twenty discipline mistakes even the best parents make—and how to stay focused on the principles of whole-brain parenting and discipline techniques

Complete with candid stories and playful illustrations that bring the authors' suggestions to life, No-Drama Discipline shows you how to work with your child's developing mind, peacefully resolve conflicts, and inspire happiness and strengthen resilience in everyone in the family.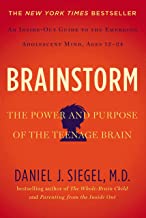 Between the ages of twelve and twenty-four, the brain changes in important and, at times, challenging ways. In Brainstorm, Dr. Daniel Siegel busts a number of commonly held myths about adolescence—for example, that it is merely a stage of "immaturity" filled with often "crazy" behavior. According to Siegel, during adolescence we learn vital skills, such as how to leave home and enter the larger world, connect deeply with others, and safely experiment and take risks.

Drawing on important new research in the field of interpersonal neurobiology, Siegel explores exciting ways in which understanding how the brain functions can improve the lives of adolescents, making their relationships more fulfilling and less lonely and distressing on both sides of the generational divide.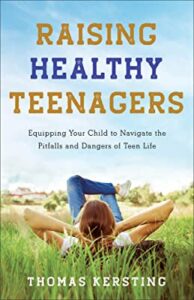 Our kids are experiencing an unprecedented sense of isolation, interacting virtually in a world that seems ever more fearful with each news cycle. They absorb and internalize the stress and anxiety they see on their parents' faces and on the phone, laptop, tablet, and TV screens that are ever before their eyes. Not surprisingly, their mental and physical health are suffering. As parents, we want to know how we can help.

Practical and encouraging, Raising Healthy Teenagers helps you understand the mental, physical, and social toll the past couple years have taken on your kids. Then it offers proven strategies to help your teen get back onto a healthy path by:

*Reducing screen time and increasing green time.
*Learning how to be a social being again.
*Developing strategies to deal with disruptions in schooling.
*Reclaiming a structured day.
*Breaking the cycle of anxiety and depression and much more.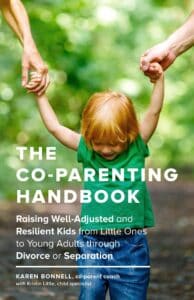 Parents need help to confidently take on the challenges of guiding children through divorce or separation and raising them skillfully in 2 homes. The authors, both trusted divorce and co-parenting coaches, provide the road map for all family members to safely navigate the difficult emotional terrain through separation/divorce and beyond.

The authors offer reassuring well-tested guidance, including advice on:

*The emotional impact of separation for both parents and kids. *Conflict and mediation
*Settling into a 2-home family
* Respectful communication and decision making
*Managing finances
*Co-parenting at holidays and events
*Introducing new adults into children's lives

With strategies to help resolve day-to-day issues, create boundaries, and establish guidelines for a wide range of families and experiences, this accessible manual is a must have for co-parents.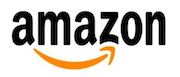 As an Amazon Associate we earn from qualifying purchases.