Problem Behaviors: It's All About the Brain
Every child and adult will encounter one difficulty or another related to accomplishing tasks, handling frustration, navigating social interaction, or worries (to name a few).  These books provide research-based solutions accompanied by practical, easy-to-implement activities and responses to enable real and sustainable changes in attitudes and behaviors.
(The suggested  activities, when learned and practiced consistently, will result in "re-wiring" the brain through the processes known as neuroplasticity,)
(Please note if the problems of concern are serious, long-standing, or do not respond to the interventions provided, you should discuss them with your child's primary care physician.)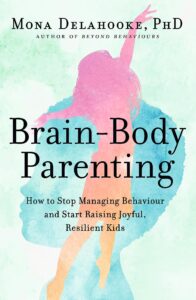 A groundbreaking new understanding of children's behavior offers insight and strategies to support parents and children. Over her decades as a clinical psychologist, Dr. Mona Delahooke has helped countless distraught parents who struggle to manage their children's challenging behaviors. These families are understandably focused on correcting or improving a child's lack of compliance, emotional outbursts, tantrums, and other 'out-of-control behavior. But behavior, no matter how challenging, is not the problem but a symptom, a clue about what happens in a child's unique physiological makeup.
In Brain-Body Parenting, Dr. Delahooke offers a radical new approach to parenting based on a process that considers the entire nervous system's essential role in producing children's feelings and behaviors.

When we begin to understand the biology beneath the behavior, suggests Dr. Delahooke, we give our children the resources they need to grow and thrive. We give ourselves the gift of a happier, more connected relationship with them. Brain-Body Parenting empowers parents with tools to help their children develop self-regulation skills while encouraging parental self-care. The result is a deeper understanding of your child, encouraging calmer behavior, harmonious family dynamics, and increased resilience.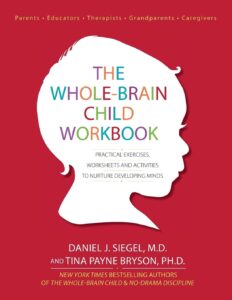 A Personalized Workbook to Help You Deepen, Reflect On, and Apply Whole-Brain Principles.

Daniel J. Siegel and Tina Payne Bryson speak to audiences all over the world about their immensely popular best-sellers, The Whole-Brain Child and No-Drama Discipline. The message Dan and Tina continually receive from their audiences, whether live or virtual, is that people are hungry for the opportunity to take the Whole-Brain ideas and go deeper with them. Thanks to this new workbook, they now can.

The Whole-Brain Child Workbook has a unique, interactive approach that allows readers not only to think more deeply about how the ideas fit their own parenting approach, but also develop specific and practical ways to implement the concepts—and bring them to life for themselves and for their children.

Dozens of clear, practical and age-specific exercises and activities.

Applications for clinicians, parents, educators, grandparents and care-givers!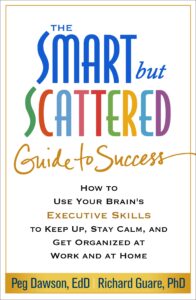 Are you smart, scattered, and struggling? You're not alone. Cutting-edge research shows that today's 24/7 wired world and the growing demands of work and family life may simply max out the part of the brain that manages complex tasks. That's especially true for those lacking strong executive skills--the core brain-based abilities needed to maintain focus, meet deadlines, and stay cool under pressure. In this essential guide, leading experts Peg Dawson and Richard Guare help you map your own executive skills profile and take effective steps to boost your organizational skills, time management, emotional control, and nine other essential capacities. The book is packed with science-based strategies and concrete examples, plus downloadable practical tools for creating your own personalized action plan. Whether on the job or at home, you can get more done with less stress.

See also the authors' Smart but Scattered parenting guides, plus an academic planner for students and related titles for professionals.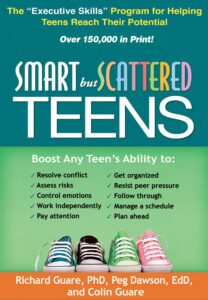 "I told you, I'll do it later."
"I forgot to turn in the stupid application."
"Could you drive me to school? I missed the bus again."
"I can't walk the dog--I have too much homework!"

If you're the parent of a "smart but scattered" teen, trying to help him or her grow into a self-sufficient, responsible adult may feel like a never-ending battle. Now you have an alternative to micromanaging, cajoling, or ineffective punishments. This positive guide provides a science-based program for promoting teens' independence by building their executive skills--the fundamental brain-based abilities needed to get organized, stay focused, and control impulses and emotions. Executive skills experts Drs. Richard Guare and Peg Dawson are joined by Colin Guare, a young adult who has successfully faced these issues himself. Learn step-by-step strategies to help your teen live up to his or her potential now and in the future--while making your relationship stronger. Helpful worksheets and forms can be downloaded and printed in a convenient 8 1/2" x 11" size.

See also the authors' Smart but Scattered (with a focus on 4- to 13-year-olds) and their self-help guide for adults. Plus, Work-Smart Academic Planner: Write It Down, Get It Done, designed for middle and high school students to use in conjunction with coaching, and related titles for professionals.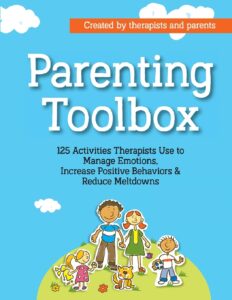 Get Kids to Listen, Stay Focused and Organized
Written from the bestselling author of CBT Toolbox for Children and Adolescents comes the all-in-one resource you need to start dealing with problem behaviors at home. The Parenting Toolbox is filled with easy-to-use strategies, backed by science, to overcome challenges and strengthen parent-child interaction.

- one worksheet, activity and exercise at a time. - Help kids cope with their stressful moments and anxious thoughts
- Improve social skills with siblings, friends and peers at school
- Reduce tantrums and meltdowns to create a more peaceful home
- Diminish the daily fight over screen time

The Therapists' Secret to Changing Behaviors Cognitive Behavioral Therapy (CBT) focuses on changing negative thoughts, beliefs and attitudes. Brief, targeted exercises can teach ways to recognize and replace unhealthy thoughts, improving emotions and behaviors.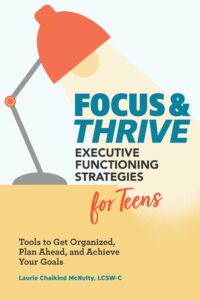 Conceive, believe, achieve―strategies to help teens ages 13 to 17 build executive functioning skills
Executive functioning is the way we manage our daily lives, including organization, planning ahead, and getting started on important tasks. These abilities may be easier for some and more challenging for others to master. Focus and Thrive is full of practical tools to help teens uncover strengths and develop executive functioning skills like staying focused, getting organized, making plans, and managing time.
From creating a checklist to maintaining a daily routine, this supportive executive functioning guide can help you feel more confident in finishing everyday tasks at school, at home, at work, and beyond. Ultimately, this straightforward approach to building executive function skills will put you on the path to achieving your goals with focus and determination.

This executive functioning book for teens features:

Step-by-step solutions―Discover simple strategies to tackle difficult situations you face every day.
Easy "life hacks"―Learn how you can overcome challenges like forgetting your belongings, communicating your needs, and more.
Powerful tools―Find a system that works for you with graphic organizers and sample checklists you can copy and reuse.

Develop better organization and time-management skills with this executive functioning resource for teens.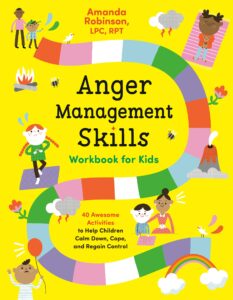 Help Your Child Learn Anger Management Skills for a Lifetime.
While some children instinctively know how to regulate their emotions, plenty of others lack the skills they need to express their anger in healthy and effective ways. This warm, engaging workbook helps children ages 5-10 develop strong skills for managing their anger through 40 fun activities.
From identifying their feelings and challenging negative thinking patterns to practicing healthy coping skills when angry feelings arise, kids will learn to feel calmer and more in control--and to form better relationships with family and friends and ease problems at school. A bonus section at the end of each chapter encourages kids and their families to practice the skills they've learned for even greater success.

Here's what you'll find in the Anger Management Skills Workbook for Kids:

SIX ESSENTIAL SKILLS everybody needs to find calm and control.

40 AWESOME ACTIVITIES that help kids develop these important skills.

BONUS GAMES AND EXERCISES at the end of each chapter to practice the skills learned with family and friends.

This positive, interactive book will help your child calm down, cope, and cool a hot temper with skills that will last them a lifetime.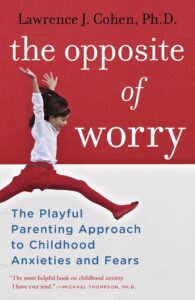 "The most helpful book on childhood anxiety I have ever read."—Michael Thompson, Ph.D.
Whether it's the monster in the closet or the fear that arises from new social situations, school, or sports, anxiety can be especially challenging and maddening for children. And since anxiety has a mind of its own, logic and reassurance often fail, leaving parents increasingly frustrated about how to help. Now Lawrence J. Cohen, Ph.D., the author of Playful Parenting, provides a special set of tools to handle childhood anxiety. Offering simple, effective strategies that build connection through fun, play, and empathy, Dr. Cohen helps parents

• start from a place of warmth, compassion, and understanding
• teach children the basics of the body's "security system": alert, alarm, assessment, and all clear.
• promote tolerance of uncertainty and discomfort by finding the balance between outright avoidance and "white-knuckling" through a fear
• find lighthearted ways to release tension in the moment, labeling stressful emotions on a child-friendly scale
• tackle their own anxieties so they can stay calm when a child is distressed
• bring children out of their anxious thoughts and into their bodies by using relaxation, breathing, writing, drawing, and playful roughhousing

With this insightful resource of easy-to-implement solutions and strategies, you and your child can experience the opposite of worry, anxiety, and fear and embrace connection, trust, and joy.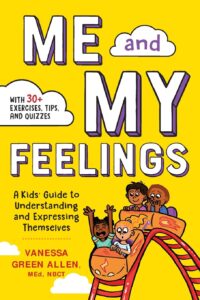 When a big feeling comes along…you can handle it! Teach kids ages 7 to 10 how to manage their feelings.
Sometimes, emotions like anger, jealousy, or excitement seem too big to keep inside. Me and My Feelings is here to teach kids that it's okay to have big feelings! They will learn how to calm down those strong emotions so they don't feel overwhelmed and can continue to take on the world.
This book gives kids the skills to stay in control―by breathing deeply, saying positive things to themselves, talking about their feelings instead of keeping them inside, and more. Help young girls and boys learn to deal with all kinds of feelings, including the hard ones like sadness, anxiety, or even fear.
Inside Me and My Feelings, you'll find:

TANGIBLE IDEAS THAT HELP: This book is packed with informative ways to help kids handle their feelings. They can use the exercises to see which tips, tricks, and habits work best for them.

QUIZZES & ACTIVITIES: Kids can get to know themselves with quizzes like "Do My Emotions Rule Me?" along with other fun exercises and activities created especially for kids ages 7-10.

EMPATHY FOR THE EMOTIONS OF OTHERS: When kids understand their own emotions and feelings, they can also empathize with other people's feelings―like their family and friends.
With Me and My Feelings, the next time big feelings get too big―kids will know just what to do!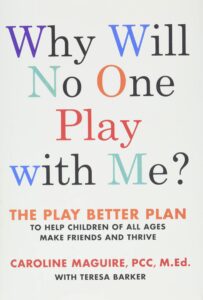 From renowned parent expert Caroline Maguire, Why Will No One Play with Me? Is a groundbreaking program that has helped thousands of children struggling with social skills to make friends, find acceptance, and have a happy childhood.

Every parent wants their child to be okay—to have friends, be successful, and feel comfortable in their own skin. But many children lack essential social and executive functioning skills that allow them to easily navigate the world.

In-demand parenting expert and former Hallowell Center coach Caroline Maguire has worked with thousands of families dealing with chronic social dilemmas, ranging from shyness to aggression to ADHD and more. In this groundbreaking book named one of the "Best ADHD Books of All Time" by BookAuthority, she shares her decade-in-the-making protocol—The Play Better Plan—to help parents coach children of any background to connect with others and make friends. Children of all ages—truly, from Kindergarten to college age—will gain the confidence to make friends and get along with others, using tools such as:

*Social Sleuthing: learn to pay attention to social cues *Post-Play Date Huddles: help kids figure out what to look for in a friendship *Reflective Listening: improve your child's relationship with their peers
With compassion and ease, this program gives parents a tangible, easy-to-follow guide for helping kids develop the executive function and social skills they need to thrive.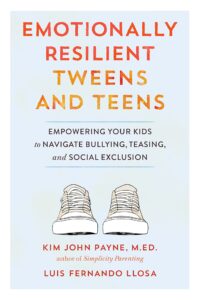 Essential reading for parents of grade schoolers through teens experiencing bullying, social exclusion, and teasing—with uplifting stories from young adults who have navigated those experiences and triumphed.

The tween and teen years are rife with intense social challenges in school, friendships, sports, and other activities where instances of teasing, bullying, social exclusion and marginalization are unfortunately all too common. Social media has only made this behavior easier and more insidious. But when kids ages 9 and up can be coached by a parent to respond effectively, manage their emotions in social situations, and recognize their own self-worth, they can reclaim a sense of their own power and develop skills like resilience, social and emotional intelligence and compassion for life.

Kim John Payne, a leading education consultant and parenting expert, and Luis Fernando Llosa, a writer and longtime sports coach, offer guidance and practical advice to parents, along with ten inspirational stories in the voice of young adults who have navigated bullying, teasing and social exclusion—and triumphed. The Emotionally Resilient Child gives tweens and teens the tools to address the problem themselves and develop mastery over the situation—rather than having parents step in and try to "fix" things. This book also gives parents vital proactive strategies to help build strong family relationships, trust and connection, so that kids can be better prepared for the inevitable social challenges life brings.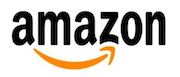 As an Amazon Associate we earn from qualifying purchases.