The Importance of Play in Raising Kids and Teens
These books are based on years of research on the parent-child relationship.  You will learn how to engage in play with your children and teenagers that builds a positive relationship as well as use the play experience to help  kids develop valuable skills.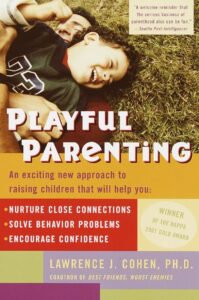 Have you ever stepped back to watch what really goes on when your children play? As psychologist Lawrence J. Cohen points out, play is children's way of exploring the world, communicating deep feelings, getting close to those they care about, working through stressful situations, and simply blowing off steam. That's why "playful parenting" is so important and so successful in building strong, close bonds between parents and children. Through play we join our kids in their world–and help them to:

• Express and understand complex emotions
• Break through shyness, anger, and fear
• Empower themselves and respect diversity
• Play their way through sibling rivalry
• Cooperate without power struggles

From eliciting a giggle during baby's first game of peekaboo to cracking jokes with a teenager while hanging out at the mall, Playful Parenting is a complete guide to using play to raise confident children. Written with love and humor, brimming with good advice and revealing anecdotes, and grounded in the latest research, this book will make you laugh even as it makes you wise in the ways of being an effective, enthusiastic parent.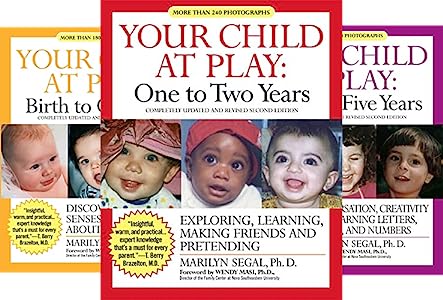 The five books in this series provide strategies and activities parents can use during play time to not only have fun and grow your relationship but also help your children develop basic skills appropriate for their stage of development. Each book takes a day to day approach and builds from one activity to the next to promote the development of physical, social, intellectual and problem solving skills. Each book also provides successfull approaches to managing typical "problem behaviors" for that stage of development.


Follow the link above and select the appropriate book for your child's developmental stage.

Your Child at Play: Birth to One Year: Discovering the Senses and Learning About the World

Your Child at Play: One to Two Years: Exploring, Learning, Making Friends, and Pretending

Your Child at Play: Two to Three Years: Growing Up, Language, and the Imagination

Your Child at Play: Three to Five Years: Conversation, Creativity, and Learning Letters, Words and Numbers

Your Child at Play: Five to Eight Years: Guilding Friendships, Expanding Interests, and Resolving Conflicts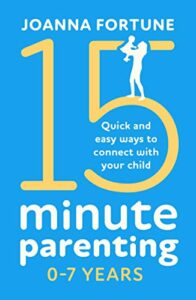 Parenting is for life – 7 days a week, 24 hours a day – and while it is one of the most rewarding experiences life can offer, it can also be frustrating when faced with challenging behaviour. But what if just 15 minutes of mindful playtime each day in you and your child's routine could change all that?

Play is the language of children. It is how they communicate. By rediscovering the joy of play as an adult, you can access a whole new way to understand and respond to your child's needs.

Created with busy parents in mind, psychotherapist and parenting expert Joanna Fortune has devised a simple but effective method to build quality playful time together at home structured around 15-minute games that can be easily incorporated into your existing daily routine.

From newborns to the age of seven, her techniques are underpinned by research, neuroscience and therapeutic theories and are designed to address common behavioural issues you will meet as your child grows, including:

Anxiety
Lashing out
Whining
Boredom
Sibling rivalry
Demands for independence

15-Minute Parenting 0–7 Years contains everything your child needs to grow into a happy, confident and resilient adult.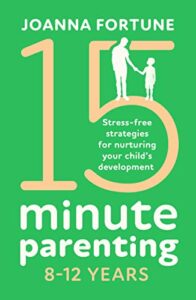 A mindful and practical parenting roadmap for busy, time-poor parents. Based on a simple and effective formula, it will transform family life in just 15 minutes of daily play, resulting in fewer tears and more laughter.

Middle childhood, the period for those aged 8–12 years old, is often the most overlooked phase of a child's development, but it's the age where play continues to serve an important role in their emotional growth. It's also a time where we are most likely to stop playing with our children.

With over 20 years of clinical and neuroscientific expertise, psychotherapist and parenting expert Joanna Fortune shares her proven techniques that will enable you to better understand your relationship with your children as they grow and ensure that your parenting is developing with them.

Packed with 15-minute games and activities that you can easily incorporate into your daily routine, Joanna also explores the neurological, physical and emotional development of 8–12 year olds and offers parents hands-on advice on how to deal with:

Friendships and bullying
Sibling relationships
Difficult conversations (the ones that catch you off guard!)
Risk-taking behaviour
Building independence, self-esteem and emotional resilience
Resistance

15-Minute Parenting 8-12 years will show you how to keep play alive with your child, foster great communication and help to secure strong foundations for adolescence.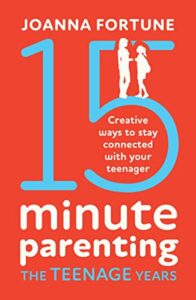 Parenting through the teenage years can be challenging and overwhelming. With over 20 years of clinical practice, psychotherapist and parenting expert Joanna Fortune has devised a simple and proven 15-minute parenting model packed with practical, playful and creative communication techniques to strengthen your relationship with your teenager.

Is it really possible to play with your teenager? Well, the answer is yes. Not only is it possible, it is crucial to nurturing the surge in growth and brain development in this stage of childhood.

Combining neurological insights into the key stages of adolescence with a road map for playful connection, Joanna shows you how to navigate your way through the teenage years and adolescent behaviour, including how to:

Build self-esteem and confidence
Establish a relationship of trust and respect
Encourage emotional resilience
Deal with mental illness, including anxiety
Handle teenage friendships and when they turn toxic
Brave conversations about sex, gender and sexuality
Tackle the dark side of social media

15-Minute Parenting The Teenage Years is a vital toolkit that will enable you to better understand your relationships with your children as they grow and ensure that your parenting is growing with them.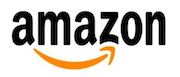 As an Amazon Associate we earn from qualifying purchases.