Family Fun and Cooperation
Family cohesiveness is essential for the health and well-being of all family members.  These books will help you develop a smooth running home and engage in fun activities that build connectedness and promote health and the enjoyment of life.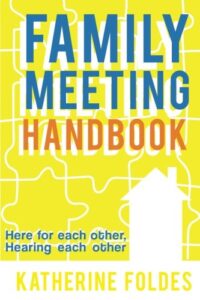 The Family Meeting Handbook; is a step-by-step guide for parents on how to hold Family Meetings that: • prevent problems • keep parents up to date • give children a say • build the family unit • improve communication • plan fun activities. When Family Meetings are recommended to parents, there is often little guidance. Parents have questions. The Family Meetings Handbook's easy question-and-answer format helps parents conduct meetings that build relationships and communication at the same time. For an easy reference book with stories, examples, tips, and much more, use the Family Meetings Handbook.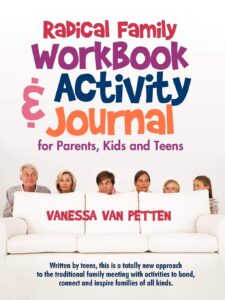 What would your kids do if they could makeover your family? With the Radical Family Workbook, you can find out how teens advise for parents to stay connected to their kids-a totally new approach to the traditional family meeting.

Have you been looking for a way to restart your family?

Do you have moody or distant teens or tweens who are lost about connecting and bonding with them?

Vanessa Van Petten and her teen writers sat down to write the ultimate fun, challenging, and inspiring workbook and activity journal for families.

This is more than just a journal; it has activities, workshops, exercises, Icebreakers, and bonding discussions that your family can do together.

It is unique because it is written by kids, so it is cool enough for teens to be interested while still digging deep enough for parents. The activities are entirely adaptable to any family size, time constraints, and personal goals.

Don't miss out on connecting with your family on a totally radical-and new level. This journal can be used again and again and can grow with your family.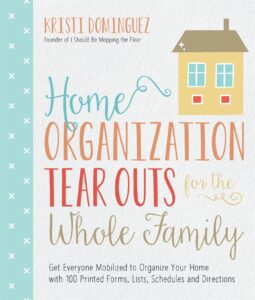 Busy parents and families who rely on home binders know how important organization is. Using the pages from Home Organization Tear Outs for the Whole Family, you can keep all your essential information in one safe place and utilize the lists, chore charts, calendars, guidelines, and labels to keep your whole home in tip-top shape. The cheerful and fun designs will involve the entire family without you playing taskmaster and make your life easier, less hectic, and more coordinated.

Eliminate clutter, organize your home, and turn those to-do lists into ta-da lists. The super user-friendly tear-outs are designed to be repeatedly pulled out, laminated, and used. See your whole home sparkle and shine in no time.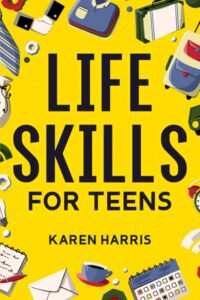 Congratulations, you are a teenager! The big question is, now what?!

The teenage years are an exciting yet ever-changing period of your life. New challenges and tasks seem to pop up almost daily—not to mention all the transitions your body is going through.

As you get older and take on more responsibilities, you have probably wondered how to do many of the adult tasks your parents or older siblings seem to breeze through daily. Everyday challenges like how to tell if the chicken in the fridge has gone bad to how to get rid of dandruff has likely crossed your mind. As you learn and experience new things, questions about basic life skills will arise. This book is here to help you solve the daily problems adults take for granted.

While the internet provides a wealth of knowledge, it can be overwhelming to navigate at times. I mean, which of the thirteen articles about budgeting and saving money is actually accurate? And yes, you can ask your parents or other trusted adults in your life to teach you specific skills, but sometimes you just want to figure it out on your own. That's where this guide comes into play.

Dive in and start learning life skills for teens! Order yours now.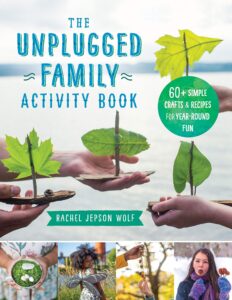 Get ready for kid-approved ideas that celebrate the great outdoors year round! Whether you're building forts or making fresh cider, there's something for every kid and every season.

What might unfold if we put away our devices for an hour, a day, or even longer? What adventures await, when we press pause on technology? The Unplugged Family Activity Book invites you and your loved ones to connect, create, and celebrate all year long.

With more than 50 projects, crafts, and recipes, plus ideas for seasonal celebrations to share with family and friends, there's fun to be had, all through the year.

Host a springtime tea party, where you'll nibble shortbread cookies and make a mossy teacup fairy garden. Or gather with friends for a summer potluck party. Blow giant bubbles, race leaf-and-bark boats, or camp out in your own backyard. In the fall, enjoy a harvest party with your friends! Create a fall leaf rainbow, sip mulled cider, and bake bread over a campfire. When winter comes, celebrate the longest night of the year with twinkling ice lanterns. Try your hand at candle dipping and pen your wishes for the coming year.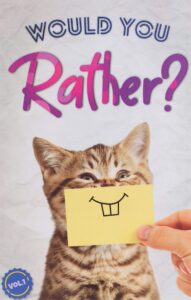 LOOKING FOR FUN-FILLED GAMES AND ACTIVITIES FOR KIDS AND TEENAGERS? This awesome activity book, packed with hilarious and intriguing "would you rather" questions, is a perfect solution for kids' parties, long car rides, family vacations, campfires, and any other occasion when you need a fun and engaging game to play!

Whether you're at home with your family, on a long car trip, in a classroom, or even trying to make an awkward small talk with your next-door neighbor, there's no better way to pass the time than by playing the game of "Would You Rather..."

"Would You Rather..." is a fun and thought-provoking conversation game where you and other players have to choose between two equally ridiculous and outrageous situations that you would never be faced with, in real life(hopefully). It offers hours of laughter and hilarity, and it is a great way to get a conversation started in a fun and interesting way. It is also easy to get into some amazing conversations by just asking "why" after a would you rather question.

In "Would You Rather?: The Book Of Silly, Challenging, and Downright Hilarious Questions" you will:
Find an awesome collection of challenging, silly, and thought-provoking scenarios for kids and their adults.

Have a great travel game to keep kids entertained on long road trips.

Enjoy clean and family-friendly humor(no questionable questions!)

Have a perfect conversation starter that will make boring parties and awkward silences a thing of the past.

Have a great gift for just about anyone equipped with a sense of humor!

Nobody wins and nobody loses, but everybody has a great time!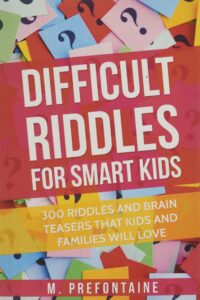 "The mind, once stretched by a new idea, never returns to its original dimensions." Ralph Waldo Emerson

This kid's book is a collection of 300 brain-teasing riddles and puzzles. Their purpose is to encourage children to think and stretch their minds. They are designed to test logic, lateral thinking, and memory and to engage the brain in seeing patterns and connections between different things and circumstances.

They are laid out in three chapters which get more difficult as you go through the book, in the author's opinion at least. The answers are at the back of the book if all else fails.

These are more difficult riddles for kids and are designed to be attempted by children from 10 years onwards, as well as participation from the rest of the family.

It is a perfect activity book for kids who like problem-solving. These activities can be shared with the whole family.

This book is one of a series of puzzle books for kids. All of them aim to stretch children's brains through kids' riddles and puzzles. They are kids' books designed to challenge children to think laterally and more creatively.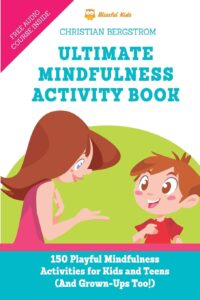 "This book makes it easy and is a must-have for every parent and teacher!"- Denise Besic, Mother and Teacher.

Give kids lasting life skills to de-stress and calm down, navigate difficult emotions, control impulses, focus on what matters, and nurture empathy, kindness, and joy.

In Ultimate Mindfulness Activity Book, you will find:

150+ playful mindfulness activities

Tools for calm, focus, joy, kindness, and emotional intelligence, and regulation

A 21-step guide to kick-start and sustain your practice together

Inspirational examples of how mindfulness makes positive change

Easy to understand explanations on how to explain mindfulness to kids and youth

A FREE audio course for grown-ups and more

UMAB empowers readers to share mindfulness with kids and youth in a playful way.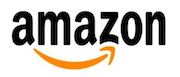 As an Amazon Associate we earn from qualifying purchases.